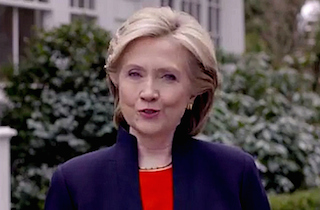 Presidential candidates who can authentically can talk about their relationship to the American Immigrant Experience (TM) can sometimes experience a boost in public opinion, which is why Hillary Clinton recently spoke about how her grandparents — all of them — always talked to her about emigrating to America. A recent report indicates, however, that most of them weren't exactly immigrants.
According to BuzzFeed's Andrew Kaczynski, three of Clinton's grandparents were not immigrants: Census data and draft cards from the 1920's and 1930's revealed that her paternal grandmother was born in Pennsylvania, and both of her maternal grandparents were born in Illinois. (That's three out of four grandparents, which is a 75% incorrect rate.)
However, during a speech in Iowa yesterday, Clinton said this:
All my grandparents, you know, came over here and you know my grandfather went to work in lace mill in Scranton, Pennsylvania, and worked there until he retired at 65. He started there when he was a teenager and just kept going. So I sit here and I think well you're talking about the second, third generation. That's me, that's you.
While the grandfather in Scranton was, indeed, an immigrant from Wales, Clinton has claimed that specific grandparents were immigrants: In a speech from last year, Clinton also incorrectly referred to her paternal grandmother, Hanna Jones Rodham, as having "immigrated with her family as a young girl to Scranton" when she was, in fact, born in Pennsylvania.
Now, second generation experiences are a fairly legitimate subject to discuss in America, but they're wildly different from the first generation — a.k.a. "the immigrant" — experience. So technically, if you're going from Clinton's maternal grandparents, she's a fourth-generation American, which doesn't particularly have the same ring as My grandparents came over from the Old Country with everything they owned in a sack and they told me about the hardships of the potato famines and the war crimes, etc.
Which is a more straightforward way of saying the following, given to CNN by Clinton's spokesperson:
"Her grandparents always spoke about the immigrant experience and, as a result she has always thought of them as immigrants," a Clinton campaign spokesperson said on Thursday. "As has been correctly pointed out, while her grandfather was an immigrant, it appears that Hillary's grandmother was born shortly after her parents and siblings arrived in the U.S. in the early 1880s."
Read the full BuzzFeed report here.
[Image via screenshot]
—
>> Follow Tina Nguyen (@Tina_Nguyen) on Twitter
Have a tip we should know? tips@mediaite.com