Hillary Clinton Has Probably Won the Election Easily, at Least According to Votecastr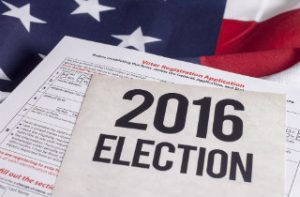 Based on the voting model by Votecastr, it appears that the election may already be over, even before the first polls close this evening.
With so much early voting going on in a number of swing states, it looks like Democratic presidential nominee Hillary Clinton has built up enough of a lead to pull out a relatively easy victory over Republican candidate Donald Trump.
In Florida, which represents 29 electoral votes and is a state Trump absolutely must pull out if he has any shot of being victorious, Votecastr is showing that with roughly 84% of votes cast, Clinton holds a three-point lead over Trump, 48% to 45%. While the Democratic candidate tends to show better results earlier in Florida that is a big deficit to overcome.
Another state that Trump absolutely has to have, Ohio, also isn't looking as promising as team Trump would like early on, even though it is closer than Florida. While polls going into today showed Trump with a somewhat strong advantage, with 73.7% of the votes cast, Votecastr is showing Trump up a point, 46% to 45%.
Iowa is also still showing in Trump's corner, but by an amount that doesn't reflect recent polling, which like Ohio, showed him with a relatively comfortable lead. With 66.5% of votes cast, Clinton is up by three points, 45% to 46%.
Regarding other states Trump was hoping to turn blue, Nevada is also potentially looking out of grasp, which possibly explains the last-minute lawsuit the Trump campaign filed. With 68.8% of voters accounted for, Clinton leads 46% to 45% over the GOP candidate.
Wisconsin was one state Trump was hoping to flip in terms of trying to find a path to 270. Yet, that looks out of reach, with Votecastr showing Clinton up six points, 48% to 43%, with 62% of votes cast.
Colorado doesn't look like it will go for Trump, either. With 80.3% of the votes turned in, the state appears to be solidly in Clinton's corner, 46% to 43%.
And, finally, one state that has long been a pipe dream for Republicans now looks like it will stay that way. Pennsylvania is generally close, but looks like it will go to Hillary, 48% to 45%, with 63.2 votes cast.
However, you must take these projections with this small caveat: Not everyone has confidence in the VoteCastr system, and question some of their methodology. For example, younger voters tend to turn out later in the day, and so the data maybe skewed. For more on some of those concerns, check out this article.
However, based on all of these projections, it doesn't look good for Trump but it ain't over til its over and hey, Votecastr is just an experiment!
UPDATE 05:05 PM ET: Votecastr has updated the totals in the following seven states. Here they are:
Florida — 49% – 45% Clinton
Iowa — 47% – 44% Clinton
New Hampshire — 47% – 43% Clinton
Nevada — 47% – 45% Clinton
Ohio — 46% – 45% Clinton
Pennsylvania — 48% – 45% Clinton
Wisconsin — 49% – 42% Clinton
UPDATE 7:55 PM ET: Votecastr still showing leads in all seven swing states, but getting much narrower in Iowa (Clinton up net 14,000 votes), Ohio (net 18,000 votes), Nevada (net 7,500 votes) and New Hampshire (net 22,000 votes).
Per Slate's Josh Voorhees, the early vote leads Clinton enjoyed vanished on Election Day.
UPDATE 8:09 PM ET: Votecastr has given its final estimated vote totals for each swing state it is monitoring. They still have all of them breaking for Hillary.
Florida:
Clinton 4,959,569
Trump 4,644,007
Iowa:
Clinton 659,498
Trump 645,935
Nevada:
Clinton 504,108
Trump 496,633
New Hampshire:
Clinton 311,833
Trump 289,125
Ohio:
Clinton 2,534,935
Trump 2,513,534
Pennsylvania:
Clinton 2,557,627
Trump 2,401,513
Wisconsin:
Clinton 1,366,876
Trump 1,193,322
UPDATE 8:17 PM ET: Votecastr also shows Colorado going to Clinton, 46% to 43%, based on 88.3 percent of the expected votes cast.
[image via Shutterstock]
–
Follow Justin Baragona on Twitter: @justinbaragona
Have a tip we should know? tips@mediaite.com