Hillary Clinton Hits Benghazi Critics Who 'Just Will Not Live In An Evidence-Based World'
Hillary Hits Benghazi Critics Who Don't 'Live In An Evidence-Based World'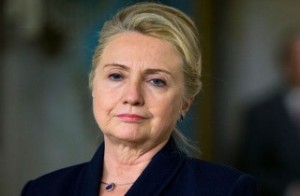 As she leaves the role of Secretary of State, Hillary Clinton spoke to the Associated Press about her tenure, including the controversy that marked her final days in office — Benghazi. Asked about the critics and allegations, Clinton said some don't like in an "evidence-based world."
Clinton pointed to the Accountability Review Board's review on Benghazi, noting that she "was so unhappy with the way that some people refused to accept the facts, refused to accept the findings" and chose instead to "politicized everything about this terrible attack."
Her job, she said, "is to admit that we have to make improvements and we're going to."
When she testified after being delayed by illness, the AP noted, Clinton faced "a barrage of hostile questions." Later, "some lawmakers continued to accuse her and the administration of withholding evidence. Sen. Lindsay Graham, R-S.C., told a television interviewer that he thought Clinton was getting 'away with murder.'"
Clinton responded:
"There are some people in politics and in the press who can't be confused by the facts," she said. "They just will not live in an evidence-based world. And that's regrettable. It's regrettable for our political system and for the people who serve our government in very dangerous, difficult circumstances."
She added that she would not be "discouraged by the fact that they are never going to accept the facts and the limitations of the facts."
"You have to get up every day and work to do best you can and communicate that to the vast majority of fair-minded Americans whether they're in Congress, in the press or in the public," Clinton said.
(h/t AP)
Have a tip we should know? tips@mediaite.com