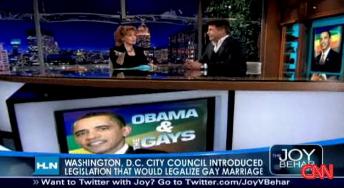 HLN host Joy Behar somehow combined Mad Men and "Don't Ask Don't Tell" in a segment last night, talking to Bryan Batt, a gay actor from the show, and columnist Dan Savage.
But Behar threw another topic into the mix – the sexual orientation of Secretary of Homeland Security Janet Napolitano.
In a conversation that was fairly critical of Pres. Barack Obama when it came to "Don't Ask Don't Tell," Behar brought up "the Homeland Security lady," who she interviewed earlier that day at The View (her day job). Savage praised her for her suspension of the Widow's Penalty. Then Behar asked, "Isn't she gay?"
One of the guests joked, "Well I've never slept with her," followed by Behar adding, "Well you know what guys, neither have I, so who knows?"
Well now that you brought it up, Joy…
During her campaign in 2002, Napolitano was asked outright about her sexual orientation, and she said clearly that she is "not gay" and was "just a straight, single workaholic."
Earlier this year she was asked about it by the New York Times magazine: "I just happen not to be married." (Which is somewhat a non-answer, but certainly proves she isn't "out".)
Either way, this is not something you're likely to get on another cable news show – it's just not a topic likely to be broached. But with a comedian at the helm, you get these moments. As Fred Armisen says as Behar on Saturday Night Live, "So what?" Behar has had big success with buzzy guests like Bill Maher since she launched earlier this month, and her ratings have been solid, but not spectacular.
And on the controversial guest front – tonight, Behar talks to birther leader Orly Taitz. Get ready…
Here's the HLN clip, and below, Napolitano on the Daily Show last night, where her sexual orientation did not come up:


—–
» Follow Steve Krakauer on Twitter
Have a tip we should know? tips@mediaite.com