Hoax? Internet Now Thinks 'Goldman Sachs Rules The World' Trader Was Not Legit [Updated]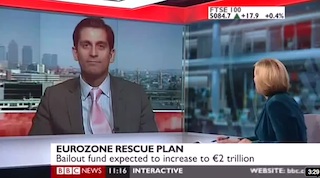 Early this morning, we published a report on Alessio Rastani, a man interviewed by the BBC about the current economic state. Introduced as an independent trader, Rastani apparently made "jaws drop" at the station with his confession that he dreams of a recession and his statement that "Goldman Sachs rules the world."
Shortly after the interview, once everyone had gotten over his initial shock and/or righteous indignation over Rastani's comments, rumors began trickling in that perhaps Rastani wasn't exactly who he said he was, and that, maybe, the entire interview had been part of a well-orchestrated hoax. Some on Twitter and Facebook guessed that Rastani might be a member of the "The Yes Men," a group whose goal, according to its website, is to impersonate "big-time criminals in order to publicly humiliate them. Our targets are leaders and big corporations who put profits ahead of everything else."
Forbes decided to reach out to Rastani himself to get to the bottom of the rumors. Rastani told Forbes' Emily Lambert that "The guy who wrote [on Forbes] mistakenly wrote that I'm a Wall Street trader. I'm not an institutional trader. I wouldn't dream of ever doing that." He continued, telling her that he "started trading for real in 2006. And to be honest, the teaching side of it is mostly just a bit of fun. In this business you meet people who come up to you and say, 'Can you show me how to do this?' It's rewarding to show people how it all works." He then added that he is "mostly a technical trader. I look at charts. I'm not a big, huge fan of funny analysis, you know, fundamentals."
Lambert asked Rastani various questions about his work and his background, likely designed to root out whether he had been lying about his knowledge of trading. Then, she asked what he'd thought of the mounting media interest in whether or not he is part of an elaborate hoax:
I think it's overblown. I have no idea why I'm getting this attention. I don't think it was news. For someone to say what I said, I thought everybody already knew this kind of stuff. The big players of funds rule the world, I don't think that was news. And what I said about making money from a crash, obviously not everybody knows about that, you can make money from a downward market. A lot of people just got the wrong end of the foot, misunderstood what I was saying. They thought I was joyful or licking my lips about the idea of making money from people's miseries. That's probably the way it looked on the video. But if they watch the whole video, what I was really trying to say is people need to educate themselves about how to do that… what I was trying to say was, look, everyone should basically prepare. I was trying to be the good guy.
Lambert saved the best for last, asking Rastani if he'd heard of The Yes Men and informing him that "there's a video of you posing as a Dow Chemical spokesman" as part of a previous hoax. Rastani insists the he's never heard of anything like that. In any case, the men in BBC's Dow Chemical interview and in the BBC's interview with the supposed trader certainly have strikingly similar voices and mannerisms. Have a look for yourselves and let us know what you think – Is it the same guy?:
BBC – Dow Chemical:
BBC – Rastani:
h/t Forbes
Update:
YesLab.org has published a statement regarding Rastani:
We've never heard of Rastani. He isn't a Yes Man. He's a real trader who is, for one reason or another, being more honest than usual. Who in big banking doesn't bet against the interests of the poor and find themselves massively recompensed—if not by the market, then by humongous taxpayer bailouts? Rastani's approach has been completely mainstream for several years now; we must thank him for putting a human face on it yesterday.
Have a tip we should know? tips@mediaite.com