Hoboken Mayor: See? Lt. Governor Denied Extortion Threat Just Like She Said She Would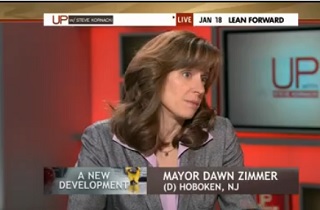 On Monday morning, New Jersey Lieutenant Governor Kim Guadagno (R-NJ) issued a forceful refutation of Hoboken Mayor Dawn Zimmer's allegation that Guadagno tried to extort Zimmer using Hurricane Sandy relief funding as leverage. Shortly after Guadagno's press conference (at which she took no questions), Mayor Zimmer issued a statement standing by her allegations, and pointing to Guadagno's alleged threat to deny the encounter if ever asked about it.
On Saturday, Mayor Zimmer told MSNBC's Steve Kornacki that the Christie administration had been pushing hard for a development project that Mayor Zimmer and the Hoboken planning board had slowed down, and after almost all of the city's Hurricane Sandy relief requests were denied, Lt. Gov. Kim Guadagno told Mayor Zimmer that in order to get the Sandy relief funds flowing, she needed to move the development project along.
According to an entry in Zimmer's personal diary, Guadagno pulled her aside after a political event in Hoboken, "and says I need to move ahead with the Rockefeller project. The word is you're against it and you need to move it forward or we're not going to be able to help you. I know it's not right. These things should not be connected but they are. If you tell anyone I said that, I will deny it."
On Monday morning, Lt. Gov. Guadagno held a press conference at which she appeared to acknowledge that there was a conversation between the two, but denied "any suggestion made by Mayor Zimmer that there was ever any condition on the release of Sandy funds by me."
"Mayor Zimmer's version of our conversation is not only false but is illogical and does not withstand scrutiny when all of the facts are examined," Guadagno continued. "Any suggestion that any Sandy funds are tied to development is false."
Shortly thereafter, Mayor Zimmer released a statement in response to the Lt. Governor's denial. From The Star Ledger:
Zimmer said in a statement that she was "genuinely disappointed" that Guadagno "has lived up to her promise that she would deny linking Hoboken's application for Sandy hazard mitigation funding with expediting a private development project."

…She said in a statement that she remains "willing to testify under oath, and I will continue to answer any questions asked of me by the U.S. Attorney's office."
Have a tip we should know? tips@mediaite.com