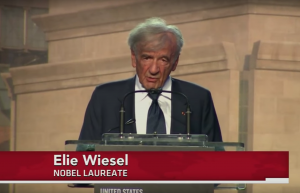 One of the foremost voices and educators about the horrors of the Holocaust passed away Saturday at the age of 87.
Elie Wiesel, who was born in Romania before being forcibly deported to Auschwitz, later authored the book Night and became one of the most recognized and decorated writers of the 20th century.
Night is a frequently-read text in American school classrooms, and details Wiesel's time at the concentration camp beginning in 1944. Wiesel famously had the number "A-7713" tattooed on his left arm, an insignia that he wrote was given to him within days of arriving at Auschwitz as a 15-year-old. According to the US holocaust Museum, 1.1 million people died at Auschwitz between 1940 and 1945.
Wiesel was awarded the Nobel Peace Prize in 1986, and received the Dayton Literary Peace Prize's Lifetime Achievement Award in 2007; in 2009 he toured Buchenwald concentration camp alongside German chancellor Angela Merkel and President Barack Obama, the site where Wiesel's father perished just weeks before US liberation.
In Night, one of the more striking moments came as Wiesel chillingly recounted his time at Auschwitz:
Then came the march past the victims. The two men were no longer alive. Their tongues were hanging out, swollen and bluish. But the third rope was still moving: the child, too light, was still breathing…
And so he remained for more than half an hour, lingering between life and death, writhing before our eyes. And we were forced to look at him at close range. He was still alive when I passed him. His tongue was still red, his eyes not yet extinguished.

Behind me, I heard the same man asking: "For God's sake, where is God?"
Watch above for a clip from the 20th anniversary of the Holocaust Museum's opening, where President Bill Clinton and Wiesel both spoke. Wiesel died at his home in Manhattan Saturday, as first reported by The New York Times.
—
[image via screengrab]
Have a tip we should know? tips@mediaite.com