'Honey Boo Boo Is The Decay Of Western Civilization,' Says America's Highbrow Scholar Adam Levine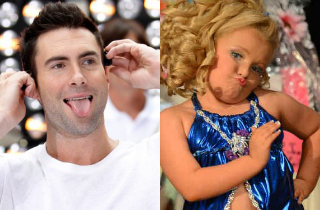 Welp. That settles it. Western civilization is officially in the midst of a downfall.
Why? Because Adam Levine, the never-Professor Emeritus of Western Civilization at Harvard University turned Maroon 5 frontman and judge on NBC's The Voice, says so.
In the December issue of GQ, Levine explained that he has combed through months of research — viewing TLC reality show Here Comes Honey Boo Boo and consulting his fellow scholars — and has come up with the following original and totally not hyperbolic thesis statement:
Seriously, Honey Boo Boo is the decay of Western civilization. Just because so many people watch the show doesn't mean it's good. So many people witness atrocities and can't take their eyes away from them, but that doesn't mean they're good. That show is literally The. Worst. Thing. That's. Ever. Happened.
With trademark thoughtfulness, Levine continued on to blame the mother of the show's star for exploiting her daughter and acting as harbinger of the end of Western culture as we know it:
It's complete f-cking ignorance and the most despicable way to treat your kids. F-ck those people. You can put that in the magazine: F-ck those idiots. They're just the worst. Sorry, I'm so sensitive to that — like, I don't know, man, it's upsetting. Just to clarify, I said, 'F-ck those people!'
Of course, Levine is not scholarly nor is he articulate. As I've noted here before, he is just that dude-bro who played guitar in your dorm hall with the door ever-so-subtly wide open in the hopes of attracting all the ladies and bringing attention to himself.
Honey Boo Boo is an especially disheartening character amongst a sea of ugly reality TV characters, but do we really care what the guy behind milquetoast, wholly unoriginal mom-rock songs like "Moves Like Jagger" and "One More Night" has to say about a fellow lowbrow element of American pop culture?
Furthermore, saying that Ms. Boo Boo is the "downfall of Western civilization" is as original as a high schooler writing a poem about how rough things are, man. Find something else to say.
All this GQ quote proves is that Levine truly does not have a single original bone in his body. As if we needed more proof.
[h/t US Weekly]
— —
>> Follow Andrew Kirell (@AndrewKirell) on Twitter
Have a tip we should know? tips@mediaite.com