Hostage Situation at VA Post Office: With Explosives Strapped To Chest, Man Asks For Pizza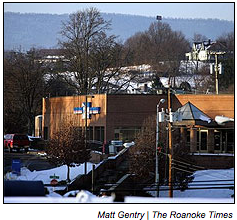 This afternoon at approximately 2:53 pm, Roanoke's local NBC station WSLS 10 reported that 5 people had been taken hostage at a post office in downtown Wytheville, Virginia by a man with explosives strapped to his chest.
[ Update: The hostage crisis is over. Update at the end of the article.]
Six hours later, they are still there, with little more information. Gunshots were fired, though there appear to be no injuries. The identity of the suspect has not been released, though latest reports say that he claims to be a veteran of the Marine Corps, and that he is not from Wytheville. Early reports that the suspect was in a wheelchair and possibly missing a limb have now been clarified — the suspect has a wheelchair, reports local Wytheville media, to which 5 pounds of plastic explosive C-4 is reportedly strapped. He also reportedly has hand grenades. The suspect has not made any demands so far — other than for pizza.
The Wythe Co. Sheriff's Office also reported that the suspect claims to have one bomb inside, and one bomb outside of the post office.
Wytheville is a rural town in southwest Virginia, located in the foothills of the Blue Ridge Mountains. According to its Wikipedia page — which has already been updated with details of the hostage situation — Wytheville is small, just 14.3 square miles, but as the juncture of several highways it's known as "the Crossroads of the Blue Ridge." Two days before Christmas, witnesses confirm that the surrounding stores have been busy, and no doubt the post office was prepared for a busy day as well — just not this kind of busy. Instead , authorities evacuated Main Street and the surrounding area as soon as police reports were made, just before 3pm. And now they — and everyone else — are waiting, as the hostage standoff continues.
By 8:00 p.m., Stg. Mike Conroy of the State Police told WSLS 10 that food and drinks had been delivered inside the post office, taken in by one of the hostages, and the suspect was engaged in ongoing talks with hostage negotiators. The suspect also permitted hostages to call home and let their families know they were unharmed.
At this time — 10:15 p.m. on Wednesday, December 23rd — the standoff continues. Updates may be found at Roanoke.com and via @roanoketimes on Twitter. All residents in — and indeed outside — of the area are holding onto hope that this incident will end well and soon.
UPDATE: Latest reports say that some hostages have escaped. Authorities are unsure how many are left. Check Roanoke.com for details; also, news outlets on Twitter are reporting updates in real time.
UPDATE: The hostage crisis is over – Walter "Gator" Taylor of Tennessee surrendered to police late last night after holding three people hostage for approximately 8 hours (three, not five hostages as had originally been reported). Gator, who entered the post office with a wheelchair, has a prosthetic leg — he said he was a veteran of the Marine Corps but it's unclear how he sustained his injury, just as it is unclear why he took the hostages in the first place. His only demand through the whole ordeal was for pizza. Read more here.
— With Rachel Sklar
Hostages given pizza, drinks as standoff continues at Wytheville post office [Roanoke.com]
Man in wheelchair holds hostages at Wytheville Post Office [NBC-WSLS 10]
Man in wheelchair with bomb holds 5 hostage at Va. post office [USA Today]

Cary Skelton is a twenty year old new college student from Roanoke, VA, an aspiring journalist, and a loyal viewer of NBC Nightly News. Follow her on Twitter here.
Have a tip we should know? [email protected]