Hours Before Deadly Attack, French President Hollande Announced Lowering State of Emergency (UPDATED)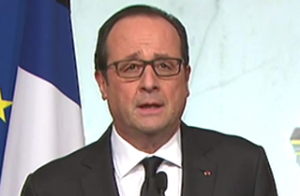 It was only hours before a white truck plowed into a crowd in Nice, France killing at least 73 people that French President Francois Hollande announced that the national state of emergency would soon be coming to an end.
Speaking to a crowd during festivities for Bastille Day, Hollande said that the state of emergency — which had been in place since the November 13 attacks — would not extend beyond July 26.
"We had to prolong the state of emergency until we could be sure that the law gives us the means to counter the terrorist threat effectively," he said earlier today.
He continued, "We can't prolong the state of emergency forever. That would make no sense, it would mean that we were no longer a republic with laws which can apply in all circumstances."
According to France 24, the state of emergency was extended three times by parliament in an effort to provide additional resources to ensuring safety through the Euro-2016 soccer tournament, which concluded this past weekend. The country was vigilant in its effort to protect the popular tournament that draws visitors from around the world. Hollande told a public radio station last month, "This (attack) threat exists. But we must not be daunted. We must do everything to ensure that the Euro 2016 is a success." He noted that terrorism was the biggest threat facing the people of France.
Information is still breaking regarding the attack in Nice, and we will update this post accordingly as new information emerges.
UPDATE — 9:53 p.m. ET: French president Hollande spoke moments ago, announcing that he will be extending the state of emergency for another three months in light of the events in Nice. At this time, there are 77 confirmed deaths in the attack.
WATCH: French President Hollande says State of emergency will be extended by 3 months: https://t.co/APkS8PM4AV pic.twitter.com/KbyoDI1s9F

— WSB-TV (@wsbtv) July 15, 2016
—
Have a tip we should know? tips@mediaite.com