House of Cards Creator Believes Hillary Clinton Is the Most Like Claire Underwood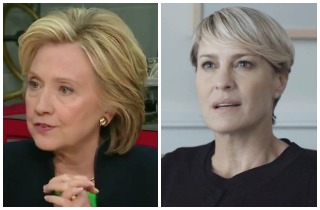 Despite its popularity in our nation's capital, House of Cards paints a pretty grim and cynical view of how D.C. politics works. Almost every step of the way, you see Frank Underwood resorting to dirty, underhanded political tricks (for a start).
Which brings us to today, with a new BuzzFeed News interview with Lord Michael Dobbs, the man responsible for creating the original House of Cards. After his work in the UK government and as an advisor to Margaret Thatcher, he wrote House of Cards and two follow-up books as part of a trilogy.
The BBC made it a miniseries, which then gave way to the popular Netflix version. And Dobbs is not only involved in some of the behind-the-scenes work on the show, but he has some thoughts as to the real-life parallels of some of the characters.
Dobbs sees the fictional president as similar to former Prime Minister Tony Blair, but as for fictional First Lady Claire Underwood, he sees a very clear real-life counterpart: Hillary Clinton.
"She is a political figure in her own right – behind the scenes, but now increasingly in front of the scenes," he said. "I'm fascinated by Hillary of course, because she comes with so much baggage. That baggage is her strength but also her vulnerability. We just have to wait and see where the balance lies on that. Though it is bizarre that the system that was bred out of [rejection of a King] has produced the Bushes, the Kennedys, the Clintons, the Roosevelts…"
Now, given how manipulating and calculating the fictional Underwood is shown to be, you might think that's not necessarily the most flattering comparison.
You might very well think that, I couldn't possibly comment.
[image via screengrab]
— —
Follow Josh Feldman on Twitter: @feldmaniac
Have a tip we should know? tips@mediaite.com
Josh Feldman - Senior Editor