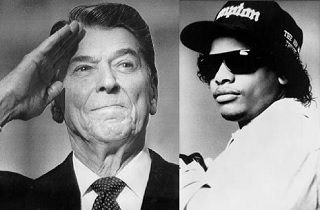 President Obama recently criticized House Republicans for taking an endless series of "meaningless" votes to repeal Obamacare, but The Hill reports that the lower chamber's GOP has finally taken up a cause that really matters: naming all of the parts of the ocean that we own after Ronald Reagan. While Democrats have argued against the measure by pointing out, among other things, that everything else is already named after Reagan, they haven't asked their colleagues where is the love for the late Eric Wright, better known as rapper and Republican icon Eazy-E.
The House Natural Resources Committee is now debating a bill, from Rep. Darrell Issa (R-CA), that would rename every inch of ocean from 3 miles to 200 miles offshore after Ronald Reagan. Democrats are not on board:
"President Reagan's name already graces roads, schools, buildings, and fields in 22 states and the District of Columbia, not to mention a major airport and a nuclear-powered aircraft carrier," said Rep. Alan Lowenthal (D-Calif.) during the debate.

"But naming the entire EEZ after anyone seems a bit much. After all, we are talking about 3.4 million square miles of ocean, an area larger than the combined land mass of all 50 states," he added. "We don't live in the United States of Coolidge, or fly through the Warren. G. Harding airspace. Why should we steam or sail on the Reagan ocean?"

Lowenthal and other Democrats also noted that it's a 1982 international treaty, called the United Nations Convention on the Law of the Sea, that authorized nations to establish their EEZs. Reagan did not sign the treaty and the U.S. has still not ratified it.
Lowenthal neglected to also point out that oceans don't trickle down.
Aside from Reagan's status as the guy Republicans want to name everything after, their argument for this honor seems out of step with today's GOP. Here's how they responded to Lowenthal's point about the treaty:
Republicans bristled at the comments.

Reagan established the U.S. EEZ with a 1983 presidential proclamation that declared the nation's sovereign rights for exploring, exploiting and conserving offshore resources, including energy.

"The authority for President Reagan to issue his executive order [establishing the EEZ] did not come from the United Nations or from the Law of the Sea Treaty."
Wait, what? Ronald Reagan seized 3 million square miles of ocean using a presidential proclamation? Usurp much? President Obama can't order breakfast without one of these guys trying to impeach him, but they want to celebrate Reagan for history's most expansive aquatic jack move?
Given that they can't agree on Reagan, doesn't it seem natural that they rename the United States' Exclusive Economic Zone the "Eazy-E EEZ?" It's like the universe wants it to happen, and Republicans ought to embrace the late rapper as they did when he was still with us:
Eazy-E (above, a.k.a. Eric Wright, 23), jetted off to D.C. for — of all things — a "Salute to the Commander in Chief" luncheon in Washington on March 18. The National Republican Senatorial Committee sponsored the fete, which featured a speech by President Bush and drew 1,400 Republicans. Wright wore a black leather suit to the event. Why was the rapper and self-proclaimed former drug dealer invited? Apparently his donations to various L.A. charities earned him an invitation to join the fund-raising Republican Senatorial Inner Circle. And Wright's spokesman says the rapper "really loves the President. He thinks he's a great humanitarian and that he did a great job with Desert Storm."
At the time, National Republican Senatorial Committee's then-Director of Communications, Wendy Burnley, said of E's appearance, "Democrats, eat your hearts out!" (By the way, Obamacare covers that.)
Have a tip we should know? tips@mediaite.com