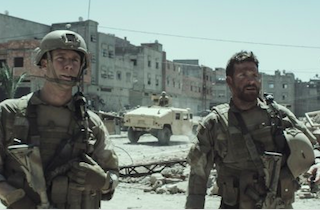 From Michael Moore and Howard Dean to Jesse Ventura and Michelle Obama, we have spent a lot of time discussing the reaction in this country to Clint Eastwood's Oscar-nominated film American Sniper. But now that the movie has actually been seen by a number of people in Arab world, reports have started to come out this week that reveal their often unexpected reactions.
American Sniper opened at Baghdad's Mansour Mall theater earlier this month, but after just a week, it was pulled from screens because, as one theater employee told a reporter working for the GlobalPost, "the hero of this film boasts of killing more than 160 Muslims." Another major movie theater in the city decided not to show the film "for fear of inciting protests and violence."
But before it was yanked from the theater, one Iraqi man named Gaith Mohammed said that it played to full and enthusiastic crowds. "Some people watching were just concentrating, but others were screaming 'Fuck, shoot him! He has an IED, don't wait for permission!!'" he said of one of the film's many tense scenes.
"I love watching war movies because especially now they give me the strength to face ISIS," he continued, saying he did not find anything anti-Arab about the film. "No, why? The sniper was killing terrorists, the only thing that bothered me was when he said he didn't know anything about the Quran!"
But a government ministry employee named Wael said he's happy the film is no longer showing in Baghdad. "To some extent, I considered it against all Muslims," he said. "The sniper, he has a chance to hit the child and his mother in their foot or anywhere without killing them, but he didn't because he's bloodthirsty like all the American troops."
One area of Iraq that continues to show the film to appreciative crowds is Kurdistan, with the film opening strongly in the Kurdish cities of Irbil, Suleimaniya and Dohuk (though it reportedly trailed the box office receipts of Taken 3).
"The Kurds don't like the Baghdadis that much so they have no big problem seeing them getting shot by an American," one Iraqi film executive told Deadline. "So far, the film is working well for our screens in Kurdistan."
Another Iraqi university student who saw the film before it was pulled told the GlobalPost that he was upset theaters were no longer showing it, but revealed that pretty much anyone in Baghdad can see it if they really want to. Many of his friends, he said, had already illegally downloaded it to watch at home.
[Photo via screengrab]
— —
>> Follow Matt Wilstein (@TheMattWilstein) on Twitter
Have a tip we should know? tips@mediaite.com