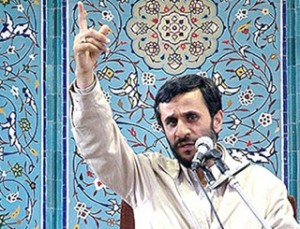 Many of you may have noticed increasing media attention devoted to a possible war against Iran, and the ever-ominous Iranian nuclear threat. It's been getting more and more coverage, particularly since reports that Israel may attack Iran sometime this spring.
At The Huffington Post, Michael Calderone expressed some concern about how this story is being reported, and wondered to what extent the media can "meaningfully assess" what numerous sources are saying. It's become conventional wisdom, he writes, that Iran is currently pursing a nuclear bomb. Calderone says the media is amplifying this, but notes "the reality is much more opaque."
Nonetheless, major networks and other media outlets have been commenting on this story. Just a few of the examples he includes are:
The Iran nuclear story has also led several network newscasts this week. On Tuesday, ABC News anchor Diane Sawyer talked of a "shadow war being waged by Iran," followed by chief investigative correspondent Brian Ross describing a "violent series of attacks by Iran," which may be retaliation for the recent killing of Iranian scientists.

CBS News anchor Scott Pelley kicked off Wednesday's broadcast by saying that Iran is "defying the world," while NBC's Brian Williams asked if "the U.S. about to get dragged into a new confrontation."
The media hype reminds Calderone of the type of coverage that led up the Iraq War. He asks, "Wait. Haven't we seen this movie before?"
Over on Salon, Glenn Greenwald, slammed CNN's Erin Burnett for her coverage of the Iran issue. Noting that Secretary of Defense Leon Panetta specifically said there's no decision yet about Israel's plans to attack Iran, Greenwald writes:
It's the sort of thing you would produce if you set out to create a mean-spirited parody of mindless, war-hungry, fear-mongering media stars, but you wouldn't dare go this far because you'd want the parody to have a feel of realism to it, and this would be way too extreme to be believable.
Burnett responded via Twitter:
@ggreenwald We do many angles over time. I'm proud of my and my team's work. And I'm glad I went to Iran, not many have. Thanks for watching.

— Erin Burnett (@ErinBurnett) February 17, 2012
We simply don't have very many details about the situation (and of course there's conflicting information), and that makes the complex topic difficult to report. Calderone's piece does an excellent job of discussing the way the media is addressing it, and it includes a wealth of information and background. Toward the end the piece, he makes a particularly good point: regardless of the truth behind the Iranian threat, we cannot escape viewing it through the lens of the Iraq War (and the often-cited WMD debacle).
Calderone quotes NBC investigative correspondent Michael Isikoff:
"People who are skeptical about claims about an Iranian nuclear program will point to the Iraq experience," Isikoff added. "That doesn't mean they're right and it doesn't mean they're wrong. It just means, it's just a historical fact that we're going to look at these issues through the lens of the misleading claims that were made about Iraq."
Hindsight, as they say, is 20/20. But in the present, it's hard to decipher an issue with little public information and many complexities. That is only made more difficult with the echoes of a war many believe was waged on a false premise.
Have a tip we should know? tips@mediaite.com