Howard Kurtz Stands By Report After NYT's Martin Strongly Disputes He Called Trump 'Racist'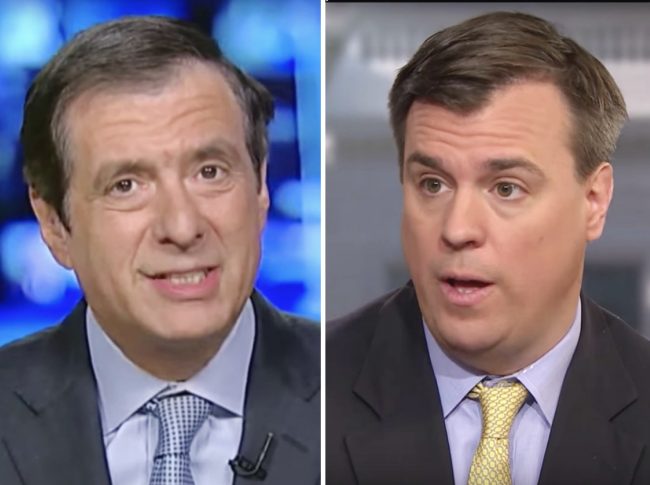 Howard Kurtz of Fox News is standing by his report from his forthcoming book after Jonathan Martin of The New York Times disputed an anecdote in which Kurtz reported Martin called President Donald Trump a "racist" in a conversation with an RNC staffer.
In a piece for FoxNews.com Wednesday, Kurtz cited two additional sources who have come forward to confirm his account of Martin's comments.
"Donald Trump is racist and a fascist, we all know it, and you are complicit," Martin is quoted by Kurtz as telling the unnamed RNC staffer. "By supporting him you're all culpable."
Martin went on to dispute Kurtz's account in a statement to Politico:
"Howie paraphrased a vague, preposterous-sounding quote to me that I told him sounded ridiculous and not the kind of thing I'd say. He couldn't tell me who I purportedly said it to, but said he'd see what more he could tell me and get back to me. I never heard another word from him after that. And I still have no idea what he or Sean Spicer are talking about."
Kurtz went on to write that he believed Martin gave him the right to divulge their off-the-record conversations by speaking about them himself. The Fox News reporter gave his account of those previously unreported chats.
[Martin] repeatedly said he did not recall saying such things to the RNC staffer or the confrontational call with Spicer. He said several times that he could not imagine himself saying something like that. But he didn't flatly deny it.

That remained his position as I went back to him with more information, while protecting the identities of my confidential sources. I kept urging him to say anything he wanted for the book and I would include it, but he insisted on staying off the record.

Finally, when I asked for a final discussion on Oct. 28, he emailed me to say "i'll call mon if that ok." I agreed but told him that I was "up against a deadline." He never called.
[images via screengrab]
——
Follow Joe DePaolo (@joe_depaolo) on Twitter
Have a tip we should know? tips@mediaite.com
Joe DePaolo - Senior Editor