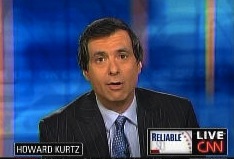 I think it's fair to say this news caught most people by surprise. Longtime Washington Post media reporter Howie Kurtz is leaving the paper to join Tina Brown's Daily Beast as the site's Washington Bureau Chief. Yes. From the announcement that just went up.
The Daily Beast today announces that Howard Kurtz will join as Washington Bureau Chief. In this new role, Kurtz will oversee the two-year-old site's coverage of Washington and will report and write regularly on politics, media, and the intersection of the two.

Tina Brown, editor in chief of The Daily Beast, said, "I have great respect for Howard as a journalist and newsbreaker, but I admire him most of all for his understanding of media and politics as the story of our era. He is that rare reporter with a metabolism that outpaces the frenetic subjects he covers. I am excited that he will be a driving force in The Daily Beast's coverage of this upcoming midterm election and for many election cycles to come."

Of his new role at The Daily Beast, Kurtz said, "I've wanted to work with Tina Brown forever—well, for a long time—and I'm incredibly impressed by the energy and creativity of The Daily Beast staff. After a lifetime in newspapers, I'm ready for the challenge of fast-paced online journalism."
Kurtz will remain anchor of the CNN show Reliable Sources. The move, which, as I noted, appeared to catch most people off guard follows a number of recent high profile moves from print to online. Last month NYT financial journalist Peter Goodman left the paper for HuffPo and Newsweek's Howard Fineman did the same. Kurtz, by dint of his Twitter, has already mustered a significant online following and it will be interesting to see whether more Daily Beast writers start popping up on Kurtz's CNN show Reliable Sources. Indeed, following this news it wouldn't be overly shocking if CNN decided to rebrand the hour in connection to Brown's Beast. Full release here.
Have a tip we should know? tips@mediaite.com