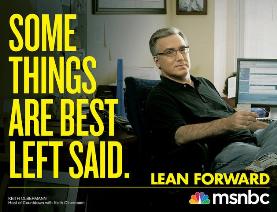 MSNBC unveiled some new promos that will begin airing next week, featuring the slogan, "Lean Forward."
But the TV promos are just the beginning. As MSNBC President Phil Griffin explained, this two-and-a-half year plan will help to broaden the reach of MSNBC as a whole.<!_--more-->
Now we're all going to pull together for the same thing," Griffin said of "Lean Forward," during an internal interview by NBCU. "It sort of unites the network."
The promos are directed by Spike Lee, a bold and high profile choice. But the promos are just part of the story. "MSNBC has not done a big campaign like this in its history," said Griffin, describing the "two and a half year commitment that we're already strategizing about."
What will that include? Here's what Brian Stelter wrote yesterday for the New York Times:
Starting next Tuesday, the commercials will be shown on MSNBC, but more important, they will also be shown on NBC Universal's other channels, and on outside channels as well. In addition, ads will appear at train stations, bus shelters and phone kiosks in the Northeast; in newspapers, including The New York Times; and on Slate, The Daily Beast and other Web sites.
(The ad of Olbermann will be part of the print campaign – although it's a little strange that he's…leaning back.)
"It's a niche world out there, but we're going to own this world and 'Lean Forward' is going to be the lens by which we own it," said Griffin.
"The Place For Politics" will remain a slogan for the network, but "Lean Forward" will be the main brand. The sleek campaign, while winking at the idea of progressivism, has been mostly about unity and patriotism so far. If it can have the same mainstream impact as "Fair and Balanced," it will have achieved its goal.
Here's Griffin (via NBCUDirect.com):


—–
» Follow Steve Krakauer on Twitter
Have a tip we should know? tips@mediaite.com