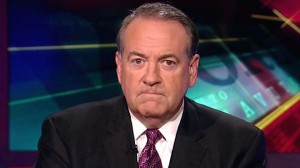 The one moment from President Barack Obama's immigration speech last night that one would think conservatives might have trouble denouncing came towards the end of the 15 minute address, when he decided to quote the Bible. "Scripture tells us, we shall not oppress a stranger, for we know the heart of a stranger," the president said. "We were strangers once, too."
But, as Fox News host and potential 2016 Republican presidential candidate, former Arkansas Governor Mike Huckabee revealed on Facebook Friday morning, that was the section that bothered him the most.
"It is interesting that Obama cites Scripture as the justification for him taking unilateral action on illegal immigrants," Huckabee wrote, before taking on a pointedly sarcastic tone. "Funny how, for the first six years of his Administration, even the two years when he had unstoppable majorities in both houses, Scripture did not compel immediate action. But two weeks after the final election he'll have to deal with, suddenly, Scripture requires us to do this."
Huckabee went on to define Obama's evolution on same-sex marriage as a similar political maneuver and even works a Bill Cosby joke into the end of his statement.
The top commenters on Huckabee's post take an even more blunt approach to the president's words:
Even Satan can quote the word of God.
He's a Muslim scripture doesn't mean anything to him. Congress needs to save our country and stop this tyrant.
Mr. Barack Hussein Obama, we accept your resignation as President of the United States. Your admission that you will not "execute" the laws of the office and that you intend to further violate our Constitution is a renunciation of your oath of office and the duties prescribed to you. This constitutes a resignation verbally and technically in effect by action / inaction. We accept your resignation.The new Congress will take the necessary procedural formalities in the upcoming year and we will expect you to physically vacate the office and White House at that time.
Read the full post below, via Facebook:
Watch Obama's full speech below, via Fox News:
[Photo via screengrab]
— —
>> Follow Matt Wilstein (@TheMattWilstein) on Twitter
Have a tip we should know? tips@mediaite.com