Huckabee Forced to Apologize After Posting Another Ludicrous Story Not Based in Reality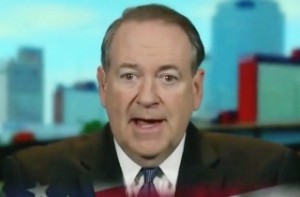 The social media practices of Mike Huckabee are as well-documented as they are head-scratching. The former Arkansas governor and Republican presidential candidate plays pretty fast and loose with accuracy, boosting a dizzying array of stories to his 2+ million followers on Facebook.
He posts links, updates, and stories from enigmatic sites deserving of a second pass of authenticity, like Conservative Tribune, Western Journalism, Christian Post, and The Greatest Trip; just yesterday, for example, the Huck posted a story with the headline — and this is real — "As Obama Prepares To Leave White House He Gets Caught In MASSIVE Lie The Blows Up In His Face."
…AND YOU'LL NEVER BELIEVE WHAT HAPPENS NEXT!!
And now, he's been forced to apologize for a misleading post first called out by Shaun King of the New York Daily News. The story in question dealt with blaming an attack on what Huckabee described as "liberal, Jewish Northwestern students." He wrote in full at the time:
"Everything You Know Is Wrong Dept: Liberals went ballistic after someone defaced the chapel at Northwestern University in Chicago, using spray paint to deface photos of Muslim students, draw swastikas and write slurs against blacks and gays, and of course, the name 'Trump,'… Can you believe what those evil, racist, homophobic, Islamophobic deplorables who support Trump did?!"
He wrote of the suspects, they're "liberal, Jewish Northwestern students who were trying to smear Trump and his supporters."
The story in the — surprise! — Conservative Tribune had tried to make it appear as if the story was recent, and Huckabee tied it to the outcome of the Presidential election. In fact, the vandalism was from March.
Huckabee told Forward, a Jewish online publication, in response "[The New York Daily News] accused me of spreading false information and hatred, and demanded an apology. And they're right, I do owe readers an apology."
Get used to it folks: we're living in the era of never-ending fake, skewed, or sensational news stories cleverly masked as authentic, and our elected officials and leaders of influence are falling for it with reckless abandon.
—
J.D. Durkin (@jiveDurkey) is an editorial producer and columnist at Mediaite.
This is an opinion piece. The views expressed in this article are those of just the author.