Huffington, Couric And More: Honoring The Best In Media, New And "Traditional"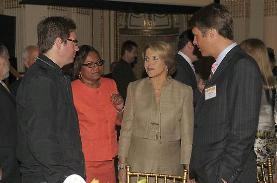 Yesterday's Newhouse School Mirror Awards were a collection of new and traditional media – and a good display of the convergence of the two.
Even though our own Philip Bump didn't win (check out his Mirror-nominated column here), check out some notes from the event.
Vanity Fair won three of the awards while Columbia Journalism Review picked up two (out of seven total awards given out – Time and New Yorker won one). But the bigger story was that both VF and CJR won awards in the "traditional media" category as well as the "digital media" category. It shows the successful marriage between both areas of their media companies to succeed in print and on the web.
Arianna Huffington, who presented the awards with Katie Couric, joked that, while the media business may be hurting, it was "doing much better than the off shore drilling business."
She also addressed Couric directly, who will be returning to the Gulf coast every week for CBS News to cover the oil spill. "Maybe you could convince our President to go with you," she said.
Terry Moran presented an award to Twitter founder Biz Stone. Moran's ABC News colleague George Stephanopoulos was scheduled to handle the duties. "What you lost in star power and political acumen you gained in height," Moran joked.
He's no stranger to the dangers of Twitter, reminiscing about the time he started the 'Kanye is a jackass' story because of an errant tweet. "That was, in fact, my bad there," he said.
Also at our table were Steven Johnson, a winner in the Best Single Article, Traditional Media category (for this) and his Time colleague, and friend of Office Hours, James Poniewozik, nominated in Best Commentary, Traditional Media (check out his Glenn Beck story here).
—–
» Follow Steve Krakauer on Twitter
Have a tip we should know? tips@mediaite.com