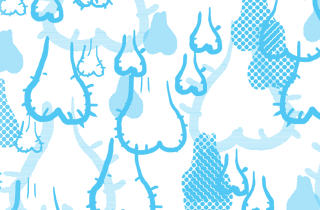 Tuesday morning marked the launch of a new website dedicated to covering all things, about well… balls.
The Ball Report is a project of the Sean Kimerling Foundation, which raises awareness about testicular cancer, and seeks to influence men to think more about their testicular health by subtly covering anything and everything related to balls — and they define that quite broadly!

In fact, you really wouldn't know the site was run by a non-profit when reading the funny, irreverent, sometimes racy and always ballsy stories.
We spoke with the site's editor, Thor Jensen:
—
So… balls, huh?
It's a naturally ridiculous topic, but yeah, think of us as The Huffington Post, but just balls. It seems like a completely absurd notion, but as we've been building a site, it makes sense because the number-one way to stop testicular cancer is to know about your balls and be familiar with your balls.
And the best way to get people to know their balls is to get them thinking about balls…
Right. And there's no preventative measures, so really it's just about being familiar with balls. And, really, What better way to make people think about their balls than to make people think about balls in general?
You've been in the media business a while. How'd you get involved with this project?
The foundation took out an ad, and I already have clients through freelance but it's nice to have something full-time that's rewarding. To be honest, most of my work is done in the service of evil — purely for page views, clicks, advertising — so to be able to do what I do and have fun while doing it for a pure good. That's kind of powerful in a weird way.
I don't want to get testicular cancer. And I want to help make sure others don't either.
What sort of content are you planning, aside from aggregating ball-related stories?
I'm going to do some long-form features: For instance, a road trip guide to testicle festivals. There are these festivals all across the country, where they cook up Rocky Mountain oysters and celebrate all things testicles. So there's that, plus I'll likely do a history of tea-bagging in video games — the common gaming move where when you beat an opponent, and bounce your virtual testicles on their face.
It will definitely be a mixture of aggregation and long-form content.
How do you decide what is sufficiently ball-related, especially when it has nothing to do with testicles?
There are three areas: We will have serious coverage of testicular cancer; and then anything "ball"-related, which might include pun-laden sports posts; and the third is just about ballsiness as a stand-in for gutsiness or badass behavior — not necessarily male-centric. I want to make balls something aspirational, be proud of being ballsy.
When I first started generating content, I was afraid I wouldn't be able to make the site vital. There's a pretty wide swath of stuff that falls under the right umbrella. But you'll find the site is fun to read, it's pleasurable.
Do you see this as an antithesis to the quick hit, "Ice Bucket Challenge"-style initiatives to raise awareness for a disease?
This is definitely something different. It's a ballsy initiative. So many non-profits are trying to generate Ice Bucket Challenge-like ideas, for sure, but what about going a different direction but providing something that is a resource not only for testicular cancer but also a fun, pleasurable read? I think it's a new way of engaging with the digital generation.
And aside from the obvious ball focus, how will the site directly influence men to check their testicles?
You'll notice rotating ads on the side of the page reminding men to check their balls. And there are links to the Kimerling Foundation.
But, I should say, We're not trying to hard-sell anything. The whole deal is just that the Kimerling Foundation wants to do something for the world, it's their outreach program. They already do a Fun Run, and a golf program, but this is outreach for a global audience in an affordable way and isn't didactic.
Check out The Ball Report here.
— —
Have a tip we should know? tips@mediaite.com