Eric Bolling Plans to Sue HuffPost Contributor Yashar Ali Over Harassment Story (UPDATE)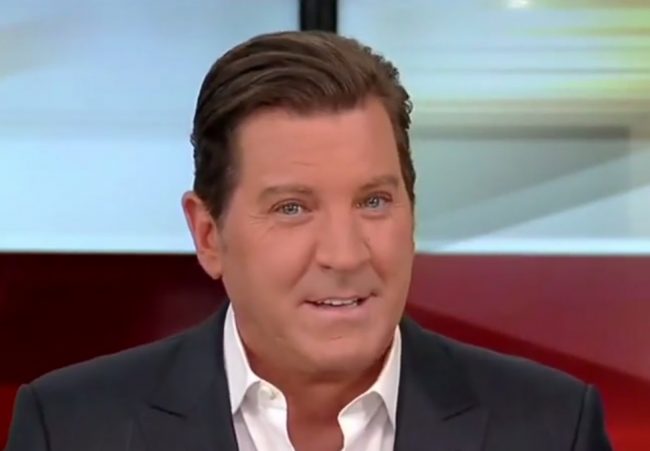 It looks like Fox News' Eric Bolling is going after the reporter who broke the story about his alleged harassing texts to female colleagues — a story which led to Bolling's suspension at the network.
As you may recall, last week, Huffington Post published a report by Yashar Ali which stated that Bolling sent lewd pics to several female co-workers. The story relied on over a dozen sources who described how the women allegedly received the unsolicited text message of male genitalia from Bolling. Fox News then announced it was investigating the matter and Bolling would be suspended during that investigation.
This afternoon, Ali took to Twitter to announce that he'd been served a summons and that Bolling is planning to sue him personally for $50 million.
Just received a summons. Eric Bolling is suing me for defamation – $50 million in damages. I stand by my reporting + will protect my sources

— Yashar Ali (@yashar) August 9, 2017
It's important to note that Bolling's summons does not include HuffPost – he is coming after me personally. I'm a big boy…but very telling https://t.co/nvludsIV87

— Yashar Ali (@yashar) August 9, 2017
Not going to stop reporting on Eric Bolling or anyone else. I've had family members killed/jailed in Iran, a lawsuit isn't going to scare me https://t.co/nvludsIV87

— Yashar Ali (@yashar) August 9, 2017
Via CNN's Tom Kludt, here is the lawsuit:
Here's @ericbolling's lawsuit against @yashar. pic.twitter.com/QNvM2Jkkul

— Tom Kludt (@TomKludt) August 9, 2017
And if that law firm looks familiar, well it is because Marc Kasowitz has served as President Donald Trump's attorney in the past and was at one point tapped by the president to represent him in the Russia probe. (Kasowitz resigned from the president's legal team in late July.)
Ali confirmed the authenticity of Kludt's Tweet but declined further comment for now, referring us to his Twitter feed.
The former Fox News Specialists host has maintained his innocence, with his attorney releasing a statement claiming that the whole thing is "unfair," while Bolling himself took to Twitter to say he was looking to clear his name ASAP.
UPDATE 6:10 PM ET: The headline has been corrected to show that Bolling hasn't actually filed the lawsuit yet, but has served a summons to show that he is planning to sue Ali.
UPDATE: 9:13 PM ET: HuffPo editor-in-chief Lydia Polgreen says the outlet will stand by Ali and his reporting.
Yashar Ali is a careful and meticulous reporter. We stand by his reporting.

— Lydia Polgreen (@lpolgreen) August 9, 2017
Yashar Ali is a paid freelancer under contract with HuffPost. We have no hesitation about standing by him financially in this case.

— Lydia Polgreen (@lpolgreen) August 9, 2017
[image via screengrab]
—
Follow Justin Baragona on Twitter: @justinbaragona
Have a tip we should know? tips@mediaite.com