Hugh Grant: News International Probe Has 'Just Scratched Surface'; More Phone-Hack Victims Come Forward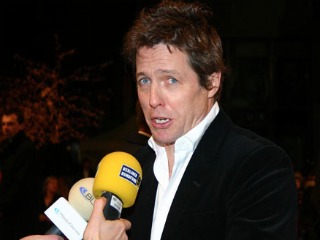 The News of the World / News International phone hacking scandal — like any good scandal, really — has been bolstered by the inclusion of celebrities like the Royal Family, former tabloid editor Piers Morgan, and actor Hugh Grant. Now, Grant (who had previously sued UK police over their handling of the hacking and told the Today show that politicians in the UK are "terrified" of News International head Rupert Murdoch) is speaking out about the scandal yet again, telling The Independent that the ongoing investigation into various instances of phone-hacking has "only just scratched surface."
Grant told the paper that he became suspicious after he'd report a crime to the police, only to have a journalist show up at his door before any cop:
Corrupt policemen tipped off journalists about celebrity victims of crime before other officers had time to respond to their calls for assistance, the actor Hugh Grant claimed yesterday.

In an escalation of the allegations facing the police Mr. Grant told The Independent he had personal experience of reporting crimes and discovering the first person who turned up on his doorstep was a tabloid journalist.

Mr. Grant suggested he would be raising the issue when he is called to give evidence before Lord Justice Leveson's inquiry into phone hacking.
Grant added that the public will soon "learn about the true nature of the Prime Minister's relationship with the Murdoch organization. What I hear on the Cotswold grapevine is that the relationship was sinisterly cozy to a deeply unhealthy and unattractive degree."
Of course, the instances of phone-hacking by News International properties aren't limited to celebrities. The Guardian is reporting that Shaun Russell, father of a young girl who survived a hammer attack that resulted in the deaths of her mother and sister, is among those suing News International for alleged hacking, bringing the total number of claims to 63 ahead ahead of January, when a few test cases will be tried in order to determine just how much News International should pay in damages to five of its phone-hacking victims.
h/t The Independent
Have a tip we should know? tips@mediaite.com