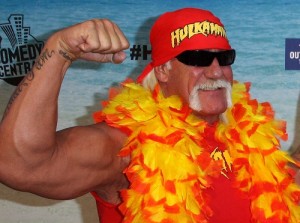 The trials and tribulations of ex-WWE wrestler Hulk Hogan and beleaguered website Gawker are one step closer to their inevitable final round.
According to the New York Post, Hogan and his legal team filed an emergency motion on Thursday against Gawker Media, claiming that the website is responsible for releasing deposition audio of his using racial slurs. The release resulted in the abrupt end of Hogan's wrestling career.
The motion doesn't even try to identify any other party who might be responsible for the leaks, instead laying the blame solely on Gawker:
Hogan claims Gawker orchestrated the leak to divert attention from its own public-relations nightmare — one caused by its posting, and then removing, a story about a married publishing executive's attempt to engage a gay male escort.

When Gawker founder Nick Denton had the post removed, the motion charges, "a 'civil war' erupted which included the resignations of the executive editor … and the editor-in-chief of Gawker.com."

It then claims the resulting brouhaha exposed Denton's "hypocrisy" in removing one post while asserting the Hulk's sex-tape post was legitimate.
Meanwhile, Gawker responded in turn, laying all the blame back on Hogan himself:
Hulk Hogan has only one person to blame for what he said, and no one from Gawker had any role in leaking that information.
Just in case you forgot, Hogan is suing Nick Denton's media empire for $100 million over the publication of and refusal to remove a post containing snippets of a sex tape.
Hogan has since apologized for the controversial audio, though he sorta screwed that one up too by retweeting a few unflattering bits of fan support.
[h/t New York Post]
[Image via Shutterstock.com]
— —
>> Follow Andrew Husband (@AndrewHusband) on Twitter
Have a tip we should know? tips@mediaite.com