'I Just Saw Someone Die': Photos from Man Who Seemingly Witnessed Michael Brown Shooting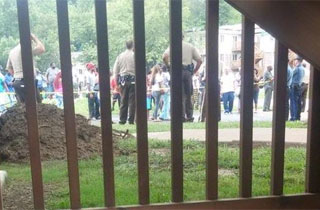 In the wake of the sketchy timeline given by the Ferguson Police Department concerning the death of Michael Brown, a Rolling Stone reporter discovered the Twitter feed of a young man who appears to have live-tweeted the aftermath of Brown's shooting.
"I JUST SAW SOMEONE DIE OMG," tweeted @TheePharoah, soon tweeting an image of Brown's body lying in the street.
He also noted that one of the policemen had an AR-15, and that Brown was shot seven times — twice in the back, and five times after he'd turned around to face the police. "The first two was clear, then it was a barage[sic] of them," he added.
The time, date, and locations all match up with details surrounding the incident.
A majority of the tweets can be found below:
I JUST SAW SOMEONE DIE OMFG

— Bruh. (@TheePharoah) August 9, 2014
Im about to hyperventilate

— Bruh. (@TheePharoah) August 9, 2014
@allovevie the police just shot someone dead in front of my crib yo

— Bruh. (@TheePharoah) August 9, 2014
Fuckfuck fuck pic.twitter.com/UpPNMEzuwf

— Bruh. (@TheePharoah) August 9, 2014
Its blood all over the street, niggas protesting nshit. There is police tape all over my building. I am stuck in here omg

— Bruh. (@TheePharoah) August 9, 2014
Bruh. Im so upset

— Bruh. (@TheePharoah) August 9, 2014
@_amourlace no reason! He was running!

— Bruh. (@TheePharoah) August 9, 2014
@DomoTheTruth dude was running and the cops just shot.him. i saw him die bruh

— Bruh. (@TheePharoah) August 9, 2014
@DomoTheTruth he looked like 18 or 19. His parents out here tripping now

— Bruh. (@TheePharoah) August 9, 2014
@SLIKK_DARKO yeah man. 7 times i think

— Bruh. (@TheePharoah) August 9, 2014
@SLIKK_DARKO the first two was, the next 5 werent, he turned around

— Bruh. (@TheePharoah) August 9, 2014
The first two was clear, then it was a barage of them shits

— Bruh. (@TheePharoah) August 9, 2014
Nigga got an AR pic.twitter.com/4KnaqMPO3a

— Bruh. (@TheePharoah) August 9, 2014
Homie still on the ground tho

— Bruh. (@TheePharoah) August 9, 2014
@_takeitsleazy apparently he stole some rellos

— Bruh. (@TheePharoah) August 9, 2014
@MVPGO cuz, I saw the parents out here they were 20 feet away from me, screaming

— Bruh. (@TheePharoah) August 9, 2014
[h/t Tim Dickinson]
[Image via Twitter]
—
>> Follow Tina Nguyen (@Tina_Nguyen) on Twitter
Have a tip we should know? tips@mediaite.com