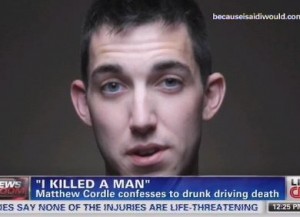 An Ohio man made a YouTube video this week starting with the line "I killed a man." It's a gripping video of someone admitting that he was driving drunk and killing another person. He identifies himself as Matthew Cordle and his victim as Vincent Canzani, and says that "when I get charged I'll plead guilty and take full responsibility for everything I've done to Vincent and his family."
Towards the end of the video, Cordle warns anyone watching to not drink and drive. The video has so far been watched over 800,000 times. As soon as people started taking notice of the video, local law enforcement took action.
Franklin County prosecutor Ron O'Brien on Thursday said Cordle was a suspect in the deadly crash but hadn't been charged. O'Brien said he saw the video on Wednesday and downloaded a copy onto a CD as evidence. He said he'll ask a grand jury to indict Cordle for aggravated vehicular homicide with an alcohol specification, a charge that carries a maximum of eight years in prison upon conviction.
O'Brien admitted he was blown away by the video confession, saying "Boy, I've never seen one like this before. I would tell you that. It was a compelling piece of video."
A CNN report on the video Saturday included audio of the victim's daughter-in-law wrestling with the emotions this brought up for their family, and admitting she didn't know how to feel about what Cordle's punishment should be.
Watch CNN's report below:
Watch the YouTube video of the confession below:
Have a tip we should know? tips@mediaite.com
Josh Feldman - Senior Editor