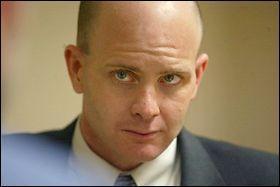 The fifth wheel in the ever-widening scandal that emerged from CIA director David Petraeus' affair with biographer Paula Broadwell has been a mysterious FBI agent who allegedly sent shirtless pictures to Jill Kelley, the Florida socialite who claims to have received disturbing e-mails from Broadwell. The New York Times unmasks the FBI agent as Frederick W. Humphries III, a counterterrorism investigator who received Kelly's complaints that kicked off the investigation which ultimately led to Petraeus' resignation.
Humphries' long career includes involvement in taking down the "millennium bomber" in 1999. His colleagues describe him as a "solid agent" with conservative politics and a "reputation for aggressiveness." The Times explains exactly what role Humphries played in the Petraeus affair.
Mr. Humphries passed on Ms. Kelley's complaint to the cybersquad in the Tampa field office but was not assigned to the case. He was later admonished by supervisors who thought he was trying to insert himself improperly into the investigation.

Convinced that the case was being stalled for political reasons, Mr. Humphries in late October contacted Representative Dave Reichert, a Republican from Washington State, where the F.B.I. agent had worked previously, to inform him of the case. Mr. Reichert put him in touch with the House majority leader, Eric Cantor, who passed the message to the F.B.I. director, Robert S. Mueller III.
Humphrey's general counsel, Lawrence Berger, says there was nothing wrong about Humphries approaching Cantor, despite the remarks of an anonymous law enforcement official that disclosing confidential investigations to members of Congress could violate agency rules. Berger is also disputing the notion that his client sent a number of shirtless pictures to Kelly, making it clear there was only one such picture and it was sent as a "joke."
The Times adds that when a man resembling Humphries was standing in front of Humphries' house yesterday, he denied his first name was Fred and he went back inside the house.
[Image via]
h/t Wonkette
Have a tip we should know? tips@mediaite.com
Josh Feldman - Senior Editor