National Rifle Association executive Wayne LaPierre delivered an early Valentine last week, in the form of a Daily Caller op-ed that called for gun owners to "stand and fight" against the hoards of Latin American invaders and south Brooklyn looters, among others. The screed produced agreement among conservatives like Joe Scarborough, and liberals like Touré, that LaPierre was using "racial overtones" to foment white panic among his followers, and that LaPierre's invocation of the "mythical" land of "south Brooklyn" demonstrated how far out of touch LaPierre was with the people he was trying to demonize. As it turns out, LaPierre is apparently not just ill-informed, but lazy.
The confusion centers around this portion of LaPierre's manifesto:
After Hurricane Sandy, we saw the hellish world that the gun prohibitionists see as their utopia. Looters ran wild in south Brooklyn. There was no food, water or electricity. And if you wanted to walk several miles to get supplies, you better get back before dark, or you might not get home at all.
There actually was some looting in the aftermath of Hurricane Sandy, but it wasn't the kind that gun ownership would have prevented, unless you also managed to procure a set of Bushmaster gills. Opportunistic thieves picked through businesses and homes that were abandoned due to flooding. However, according to police, these incidents were not widespread.
There also actually is a place called South Brooklyn, but it's not the same place that LaPierre was talking about. South Brooklyn is an arcane term for a section of Brooklyn "encompassing areas of Cobble Hill, Red Hook, Gowanus, Park Slope, and Boerum Hill," and "is not to be confused with the actual southern region of the modern borough of Brooklyn, usually called "Southern Brooklyn" or "the southern tier", which spans the neighborhoods of Sheepshead Bay and Coney Island, for example."
So, where did Wayne LaPierre get the idea to refer to Coney Island as "south Brooklyn?"'
Well, the first three results, when you Google the phrase "Hurricane Sandy Looting," are as follows: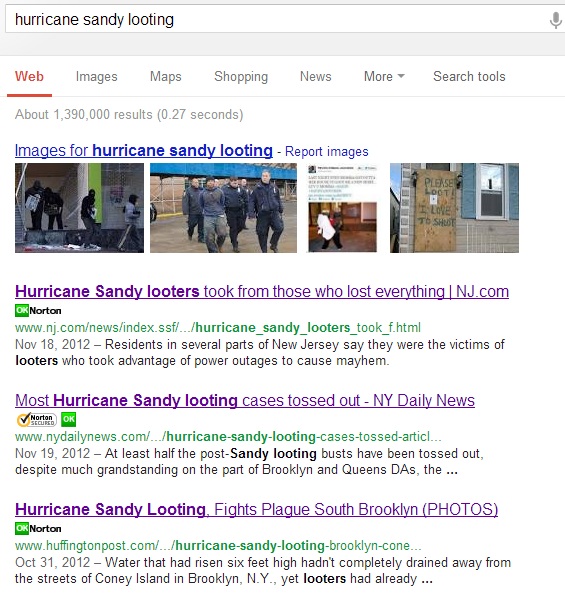 Unfortunately, the first two articles are all about how the looting in New Jersey was not widespread, and about how most of the people the police arrested for looting were not actually looting:
"The police took an already tragic situation and made it worse by falsely charging people who were only out to help their family and friends," said Robert Marinelli, who represented three men whose cases were dropped.

Marinelli said his clients were looking for a place to power their phones when police lassoed them near the already-looted market.

When the suspects were arraigned, Brooklyn prosecutors took a hard line, asking for exorbitant bails ranging between $20,000 and $100,000.
That third entry, "Hurricane Sandy Looting, Fights Plague South Brooklyn," was just what LaPierre was looking for, but he didn't seem to have read past the headline:
Water that had risen six feet high hadn't completely drained away from the streets of Coney Island in Brooklyn, N.Y., yet looters had already rifled through the remains of vulnerable shops on Mermaid Avenue.

At about 8 a.m. on Tuesday, workers arrived at Mega Aid Pharmacy to find that not only had Hurricane Sandy obliterated the building's interior the night before, but thieves had broken in and gone through more than 10,000 pharmaceutical items. Most of the stolen goods were prescription meds.

…Solid numbers aren't yet available for New York City crimes connected to the superstorm. The 60th Precinct, which covers Coney Island, was evacuated and subsequently flooded on Monday night. Though several officers couldn't say definitively whether there had been reports of looting or other crimes in the area, many were quick to tell onlookers to go home.
Since then, of course, more reliable information about the aftermath of Hurricane sandy has emerged, information that LaPierre didn't bother to find out:
There was a big spike in burglaries, as criminals picked through abandoned homes, Browne said. But all other crime categories were down.

Shootings were down 17%. Rape was down 47%. Robberies were down 22%. Assaults were down 18%. Grand larceny was down 45%. And car thefts were down 22%.

Overall, crime fell by 25%.

And Browne delivered another inconvenient truth for the NRA man — the city actually went a record eight straight days without a single murder.

LaPierre also made the preposterous claim that Mayor Bloomberg "refused to allow the National Guard into the city to restore civil order because Guardsmen carry guns!"

City officials dismissed that claim as more NRA nonsense and said there were plenty of armed National Guardsmen in the city in the aftermath of Sandy.

"Wayne's world is a loopy place," said Bloomberg spokesman John McCarthy. "New York is the safest big city in the country — thanks in part to our strong gun laws — and in the aftermath of

Sandy, crime stayed at record lows. He should touch base with reality."
So, Virginia, there is a "South Brooklyn," but it's not the place Wayne LaPierre was talking about, which is not, in turn, the hellish crimescape he envisioned in his op-ed piece. More importantly, though, even if Wayne LaPierre's assessment of south Brooklyn was 100% accurate, there is nothing in any of President Obama's proposals to reduce gun violence which precludes citizens from obtaining firearms for self-defense, whereas LaPierre continues to protect criminals' ability to legally purchase guns. Clearly, facts don't matter to Wayne LaPierre, only fear.
Have a tip we should know? tips@mediaite.com