If You Were Using the New Genius Program, You Could Annotate This Page Right Now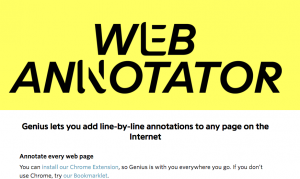 Genius is a company that launched with a simple goal a few years ago. They wanted to make rap music more accessible, so they made a site that allowed users to annotate lyrics. The site was long known for attracting hip-hop aficionados who were able to break down allusions to historical events, inside jokes, and obscure bars with ease. Behold, my sassy take on the site from two years ago:
I spend a lot of time wondering how self-aware the geeks who submit to Rap Genius really are.

— lin z l f son (@ellefs0n) November 18, 2014
The site branched out into other types of music, too, and a few years later, they attempted to get into news. It was spectacularly bad when one of the co-founders annotated the Santa Barbara shooter's manifesto with speculation about the shooter's sister's level of attractiveness and commentary on how "beautifully written" some passages were.
Nevertheless, the company is trying again. This time, not just news can be annotated. Not just rap lyrics can be annotated. Anything can be annotated, provided an Internet user types http://www.genius.it/ before the URL. Then, highlight any text on the page and — viola! — you can annotate.
Is that really for the best, though? Is the ability to amend anything on the Internet a right that any old layperson with a laptop is deserving of? Some people don't think so. Slate published a piece by one woman who raised the concern that this will just be another platform on which to harass writers, especially women.
Genius co-founder Ilan Zechory put it like this:
At an infrastructural level, we're trying to change the way reading and writing takes place on the Internet. There's been a big sea change from the printed page to the screen.
I have never looked at the Genius version of anything I've written and I will probably never do it. It doesn't seem productive. Still, that doesn't mean there isn't merit to annotation of anything and everything. It simply means that I, personally, will rely on my email inbox for critique and praise, like they did way back when.
What about you? Have you been doing it? Will you be doing it? What do you think? Tell us in the comments, not in the annotation tool, just to make sure everyone gets to see.
[image via screengrab]
For more from Lindsey, follow her on Twitter.
Have a tip we should know? tips@mediaite.com