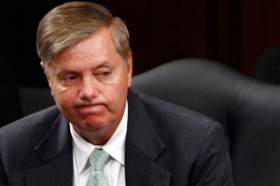 Want a sense of how a national immigration debate may sound to Republicans unwilling to tow the hard right line? Get a load of this. Over the weekend hard right immigration "reform" group ALIPAC (Americans for Legal Immigration Political Action Committee) responded to Sen. Lindsey Graham's measured call for immigration reform by calling for Graham to "come out of that log cabin closet."
William Sheen, head of ALIPAC, referenced a three year old speech Graham made to the National Council of La Raza during which he noted that to many immigrants America is an idea and "no group owns being an American." When Sheen repeated this someone in the crowd hollered "neuter Lindsey Graham." Sheen went on:
"Sometimes I wonder what it would take to make a person sell their country out like that." [I'll give you a hint…According to Sheen, it has to do with Graham possibly being a homosexual!] There's one thing that it could be, that I'm going to put out in the open here today. It's a secret Lindsey Graham has…"I hope this secret it isn't being used as leverage over Senator Graham, so today I think Senator Graham, you need to come forward and tell people about your alternative lifestyle and your homosexuality."
To be clear, Sheen isn't interested in Graham's private life, oh no, nor is he holding Graham's "secret homosexuality" over his head…he's merely worried that others might! He's doing Graham a favor! Video of this below. If immigration does become this summer's national conversation I'm sad to say I think we can expect a lot more of this nonsense. Update: HuffPo notes that "ALIPAC has posted the video titled "US Senator Graham is Gay" — and tagged with the keywords "queer" and "fag" — on YouTube, where various news outlets have covered it." Lovely.
Have a tip we should know? tips@mediaite.com