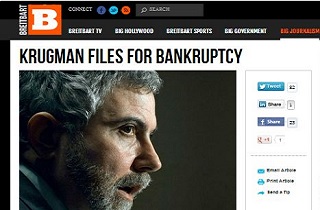 Nobel Prize-winning economist Paul Krugman's fictitious bankruptcy is just the latest example of a journalistic peril of the internet age: speed kills. A satirical article about Krugman's nonexistent financial woes, originally by The Daily Currant, found its way onto the pages of Breitbart.com, and is now being used to make the site an object of ridicule. Sometimes, they deserve it, but in this case, taking a pound of Breitbart News' flesh is not only unfair, it obscures more important aspects of this story.
The temptation is understandable, especially given the way Breitbart.com jumped all over Washington Post columnist Suzi Parker for being taken in by a satirical story from the exact same website. However, even as sites like Media Matters blast Breitbart.com in their headlines, they note that editor Larry O'Connor, who wrote the Breitbart.com piece, wasn't taken in by The Daily Currant:
In the March 11 post, Breitbart.com editor at large Larry O'Connor mocked the Nobel Prize winning economist and New York Times columnist for his alleged financial mismanagement. Unfortunately for O'Connor, the report that Krugman went bankrupt is clearly a joke and originated from the satirical website The Daily Currant. O'Connor has since deleted the post without explanation. (Update: O'Connor tweeted, saying he "trusted Boston.com as the source for that Krugman piece, but they were duped by Daily Currant, therefore, so was I!")
In fact, the post that O'Connor deleted cited only the report that appeared on The Boston Globe website, which has since been removed. Here's a sample, from the Google cache of that page:
Paul Krugman, the king of Keynesianism and a strong supporter of the delusion that you can print your way out of debt, faces depression at his very own doors.
According to this report in Austria's Format online mag, Krugman owes $7.35 million while assets to his name came in at a very meager $33,000. This will allow the economist and New York Times blogger to get a feel of how the majority of Americans go about their dreadful lives without any savings and a social system that will only shed pennies to him.
Even the report that O'Connor relied on didn't cite The Daily Currant. Granted, he probably should have checked the story anyway, but he wasn't fooled by The Daily Currant, which that Boston Globe piece didn't even quote. They relied on an Austrian website, which literally lost the humor of The Daily Currant's post in translation:
The majority of its debt resulting from a loan financing of a 8.7-million-dollar apartments in Manhattan, plus credit card debt come in the amount of $ 621,537, and believe it or not – $ 33,642 debt at Tiffany and Co. As "The Daily Currant" reported, it was found in the course of the bankruptcy, opened private that Krugman had already amassed 2,004 credit card debt, as he loaded his black American Express in a single month with $ 84,000 – 19 rare Portuguese wines and English clothes from the Century it had done in the manifest. But rather than tighten their belts and pay the Schluden, trying to "stimulate" the economist tions to personal recreation – by investing in the hope of future income.
You all know that old expression, "If you want to dance, you've got to pay the Schluden?"
So, how did The Daily Currant's story end up on the Boston Globe website, by way of Austria? The Washington Post's Eric Wemple explains:
Brian McGrory, the Globe's editor, explains that no editorial official at his paper ever made a decision to post the piece. "The story arrived deep within our site from a third party vendor who partners on some finance and market pages on our site," says McGrory. It was never on the Boston.com homepage, says McGrory. "We never knew it was there till we heard about it from outside." Since the posting went up, McGrory attests to having done "urgent work to get it the hell down," something that appears to have happened, though not as quickly as McGrory would have liked. "The idea that we'd have a partner on our site is actually news to me," says McGrory, who vows to "address our relationship with that vendor."
Granted, Breitbart.com is guilty of posting a dubious story at their own already-dubious website, but isn't the greater story the fact that a respected newspaper is publishing fake stories, or any stories, without any editor ever having seen them? Liberal bloodlust for Breitbart is not an excuse for scapegoating Larry O'Connor for the far greater sins of The Globe, it is a betrayal of the very phenomenon they're trying to critique.
Have a tip we should know? tips@mediaite.com