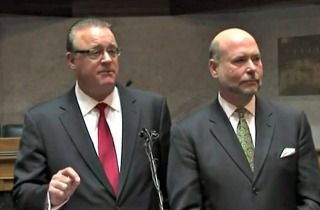 Indiana House Speaker Brian Bosma (R) and Senate President Pro Tempore David Long (R) called a press conference on Monday to further "clarify" and "fix" the state's recently-passed Religious Freedom Restoration Act, which critics contend could open the door to anti-LGBT discrimination.
Indiana Gov. Mike Pence (R) has been facing fierce backlash for signing the law. One company said it was not expanding because of it, while Apple CEO Tim Cook called it "dangerous" and "bad for business." The NCAA said it was concerned about the decision, given the upcoming Final Four games in the state's capital, Indianapolis.
Rep. Bosma said the law was not intended or designed to discriminate against gays or lesbians, and urged his colleagues to take action to immediately clarify the "effect" of the bill.
–RELATED: Stephanopoulos Corners Pence over LGBT Discrimination: 'It's a Yes or No Question!'
"What we had hoped for with the bill was a message of inclusion — inclusion of all religious beliefs," Bosma said. "What instead has come out is a message of exclusion, and that was not the intent, and hopefully not the effect. But to the extent it is, we're intent on righting that."
Long said he's never seen the type of reaction to Indiana's bill that similar ones passed in other states or the federal government received, adding he and his colleagues didn't see it coming. He said they hope to have a "fix" to the bill soon.
Watch the video below, via The Associated Press:
[Image via screengrab]
— —
>>Follow Andrew Desiderio (@forza_desiderio) on Twitter
Have a tip we should know? tips@mediaite.com