Inmate in Sheriff Clarke's Jail Dies From Dehydration After Being Denied Water for a Week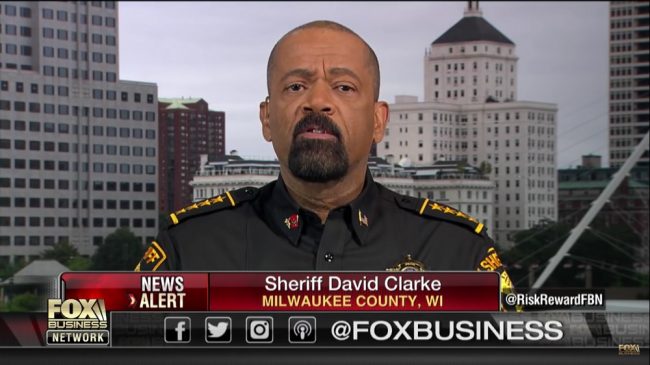 Prosecutors in Wisconsin launched an inquest this week into the death of Terrill Thomas, a prisoner who died after being denied water for seven days.
The Washington Post spotlighted the investigation in a Tuesday write-up. Thomas was in solitary confinement in Milwaukee County's jail, which is administered by Sheriff David Clarke, a law enforcement official best known for his support for Donald Trump during the 2016 presidential campaign.
The newspaper reported that "Thomas had been moved to solitary in the discipline unit after he used his bedding to flood his jail cell in the special needs unit."
The prisoner had been arrested for "allegedly shooting a gun at a group of men" outside a casino in Milwaukee. During the altercation, Thomas "yelled for everyone to get on the ground and claimed there were snakes everywhere."
Later, a judge "ordered a competency examination" for the shooting suspect, as he was reported to have bipolar disorder.
The Post's report noted that the "first major court revelation" at the inquest came when "prosecutors told the jury that Thomas had endured seven days without any liquid, lost 35 pounds and grown weak and quiet before he died inside his cell."
Assistant District Attorney Kurt Benkley detailed to the jury that "three corrections officers were captured on surveillance video cutting off Thomas's water supply…They never turned it back on and failed to document the action or alert supervisors."
The publication also noted that Thomas's family filed a federal lawsuit over the dehydration death. They cited a March 10, 2017 report by the Associated Press about the litigation, where Sheriff Clarke punted on commenting on the case, but emphasized the prisoner's criminal history.
"I have nearly 1000 inmates. I don't know all their names but is this the guy who was in custody for shooting up the Potawatomi Casino causing one man to be hit by gunfire while in possession of a firearm by a career convicted felon?" Clarke said. "The media never reports that in stories about him. If that is him, then at least I know who you are talking about."
[image via screengrab]
Have a tip we should know? tips@mediaite.com