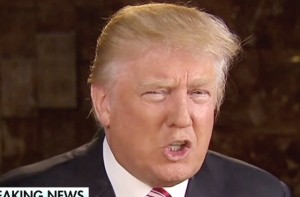 Several Republican delegates are maneuvering to do whatever it takes to avoid coronating Trump at the Republican National Convention in July, according to a report in the Washington Post Friday.
One delegate went so far as to say, "This literally is an 'Anybody but Trump' movement. Nobody has any idea who is going to step in and be the nominee, but we're not worried about that. We're just doing that job to make sure that he's not the face of our party."
The Post's Ed O'Keefe reports:
The delegates are angered by Trump's recent comments on gun control, his racial attacks on a federal judge and his sinking poll numbers. They are convinced that Trump is an insufficiently conservative candidate and believe they will find enough like-minded Republicans within the next month to change party rules and allow delegates to vote for whomever they want, regardless of who won their state caucus or primary.

The new campaign is being run by the only people who can actually make changes to party rules, rather than by pundits and media figures who have been pining for a Trump alternative. Many involved in the delegate-driven movement supported Sen. Ted Cruz of Texas in the primary, but say they have no specific candidate in mind and are not taking cues from any of Trump's vanquished opponents.
The Post's article follows a report in CNBC last week that several GOP delegates were looking for an escape from a Trump nomination. "There is only so much dogshit to choke down," one delegate told CNBC.
Meanwhile, the "Anybody but Trump" movement dovetails with the recent pivot of the effort to recruit a third-party challenger, which appears to have fizzled out and been replaced by a desire to lead what Weekly Standard editor Bill Kristol called "delegate revolt" at a "Convention of Conscience."
[h/t Washington Post]
Have a tip we should know? tips@mediaite.com