FL Rep Goes Off About Guns on CNN: Congress Needs to Do More Than One Minute of Prayer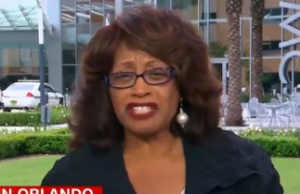 Meet Representative Corrine Brown, a congresswoman who has been representing the Orlando area for almost a quarter of a century. Given how much experience she has, it shouldn't surprise you that she has a lot of opinions on the way Congress gets things done (or doesn't get things done, depending on your point of view).
In the wake of the biggest mass shooting in American history, which took place in her district on Sunday morning, she traveled to Florida on Air Force One and has been chatting with President Barack Obama and Vice President Joe Biden about the challenges that lie ahead. While telling all that to Carol Costello today, she made her opinions very well known.
"We have a problem in the United States with domestic terrorism," she asserted fervently. "Clearly, we need to do something in Congress other than having one-minute prayer. Today marked one year since the same situation happened in [South] Carolina and we had a minute of silent prayer, but after we finish praying, then what are we going to do?"
Brown has criticized her colleagues before and has been exasperated on the record about their sluggishness on certain issues. The people she is most definitely not exasperated with are the residents of her district.
She went on to talk about the overwhelming support of the community and heroic efforts of the responders on the scene, saying, "When you say 'Orlando Love' and 'Orlando Strong,' this is an example and we want to also say, 'Orlando Safe.'"
Watch above, via CNN.
[image via screengrab]
For more from Lindsey, head to Twitter or Facebook.
Have a tip we should know? tips@mediaite.com