Investigator Claims Navy Map Reveals 'There Were Enough Forces to Respond' to Benghazi
Responding to a Freedom of Information Act request, the U.S. Navy released a letter revealing that multiple air and naval assets were in the region preceding the deadly attack on an American consulate in Benghazi, Libya in 2012. "The U.S. military had a multitude of forces in the region surrounding Libya when terrorists attacked the Special Mission in Benghazi and murdered four Americans, according to an unclassified Navy map," the conservative organization which filed the FIOA request, Judicial Watch, reported.

"Dozens of vessels were stationed in the region on that day, including two aircraft carriers (Dwight D. Eisenhower and Enterprise), four amphibious ships, 13 destroyers, three cruisers and more than a dozen other smaller Navy boats as well as a command ship," the report continued.
Retired Air Force LTC Randall R. Schmidt, who is investigating the military's response to that terrorist event, insisted that "Destroyers could have responded to the attack." He added that unmanned aerial vehicles, manned aircraft were also in the region. "The point is there were enough forces to respond," Schmidt told Judicial Watch.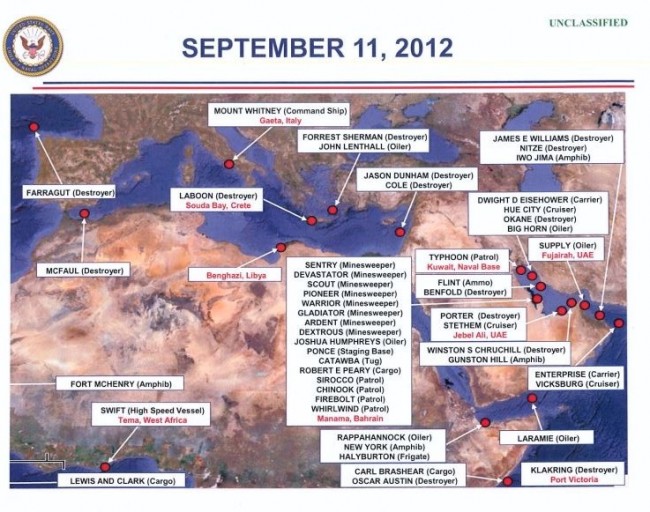 "Assuming a 20 knot transit speed and no Suez Canal delays, the transit would take approximately 168 hours or seven days," a Navy captain revealed in an unclassified letter. The map the Navy provided also shows that the closest amphibious ship, the Iwo Jima, was also in the region. The map does not, however, disclose that ship's distance to Benghazi.
After linking to the unclassified map, CBS News reporter Sharyl Attkisson noted that the Obama administration had previously asserted that military assets were stationed too far from Benghazi to respond to that attack. Further, she recalled, the State Department Accountability Review Board found that military assistance could not have been provided to the American military and diplomatic personnel.
The Judicial Watch report closes by linking to the House Armed Services Committee review of the response to Benghazi released to the public in February. The report criticized the White House for failing to take into account the "dramatically deteriorating security situation in Libya and the growing threat to U.S. interests in the region."
Read the full report via Judicial Watch
[Photo via Judicial Watch/AP]
— —
> >Follow Noah Rothman (@NoahCRothman) on Twitter
Have a tip we should know? tips@mediaite.com