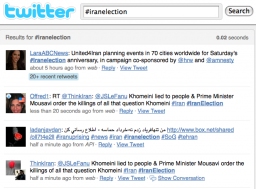 In the protests following Iran's President Mahmoud Ahmadinejad's election last June, the media hailed Twitter a superhero. The social media tool became touted as a way for Iranians to communicate and organize. A Foreign Policy article published yesterday, however, argues that no such "Twitter revolution" occurred.
Golnaz Esfandiari writes:
The Western media certainly never tired of claiming that Iranians used Twitter to organize and coordinate their protests…Even the American government seemed to get in on the act. Former U.S. national security adviser Mark Pfeifle claimed Twitter should get the Nobel Peace Prize because "without Twitter the people of Iran would not have felt empowered and confidant to stand up for freedom and democracy."
But despite this, Esfandiari says the manager of "Balatrin," a hugely popular Farsi-language website, told the Washington Post that the impact of Twitter within Iran was "nil." Nothing. The Twitter frenzy, he observed, was mostly Americans tweeting among themselves.
But if Twitter was not a large communication tool, then what was? Simple: "good old-fashioned word of mouth was by far the most influential medium used to shape the post-election opposition activity."
Esfandiari also brings up a Twitter user whose media coverage I remember well: Oxfordgirl. Britain's Guardian described her as a "crucial link" between protesters and the outside world, but the reporters did not ask how Oxfordgirl communicated with Tehran when cell phone networks were down during protests. Oxfordgirl generated a great deal of publicity, yes. But for whom? Mostly herself, it would seem.
The article makes a valid point in saying that "no one seemed to wonder why people trying to coordinate protests in Iran would be writing in any language other than Farsi." This was a question that crossed my mind as I avidly followed election coverage, but no one seemed to address it.
Yet for all the criticism of the Twitter revolution that never was, it would be unfair to say Twitter did not play a role. Of course it did. But its role has been grossly overplayed and Esfandiari's article is right in pointing it out. But one of the best points in the article comes at the very end:
And ultimately, that's been a terrible injustice to the Iranians who have made real, not remote or virtual, sacrifices in pursuit of justice.
By playing up the role of Twitter, we play down the role of those Iranians who have made greater contributions. And that is, indeed, an injustice.
Have a tip we should know? tips@mediaite.com