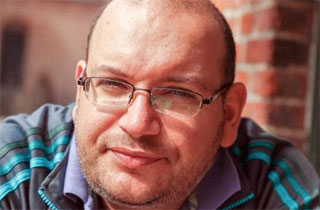 Jason Rezaian, the Tehran bureau chief of the Washington Post detained by Iranian authorities, was indicted today and will stand trial for unknown charges.
Rezaian, who holds dual citizenship with Iran and the United states was detained last July and will stand trial in Iran's Revolutionary Court, which the AP notes normally deals with cases regarding security offenses. A report from Iran's state news agency IRNA says that while he was charged back in December, his official indictment "clears the way" for him to be tried.
Rezaian's case drew ire from the international community after both he and his wife, journalist Yeganeh Salehi, were arrested on unknown charges and Rezaian did not have access to an attorney for four months. Salehi was eventually released on bail, but Rezaian is still in prison, the nature of his charges unknown.
Secretary of State John Kerry, who has called for Rezaian's release, is meeting in Geneva today with Iranian Foreign Minister Mohammed Javad Zarif about the country's nuclear program, and Zarif told reporters that he hopes Rezaian's case would be "resolved."
"We will have to wait for the judiciary to move forward, but we will try to provide all the humanitarian assistance that we could," Zarif said, adding that "unfortunately there are judicial issues involved which the judiciary has to deal with."
UPDATE (April 20, 2015>: The Washington Post reports that months after his indictment, Jason Rezaian has formally been charged with espionage, as well as "collaborating with hostile governments," "propaganda against the establishment," and "collecting classified information."
[AP]
[Image via Jason Rezaian/Twitter]
—
>> Follow Tina Nguyen (@Tina_Nguyen) on Twitter
Have a tip we should know? tips@mediaite.com