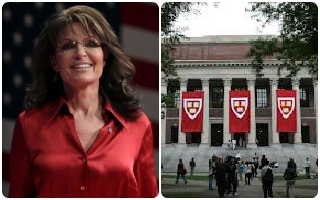 The spectacularly successful parody site Daily Currant, which has secured for itself a reputation for regularly tricking reporters and political pundits into believing its absurd premises, has just launched another doozy. So, when either your credulous friend or an equally credulous political pundit tells you that today's big news is about former Alaska Gov. Sarah Palin's move to Harvard University, you can point and laugh armed with the knowledge that this "news" originated in the offices of "the global satirical newspaper of record."

RELATED: Sarah Palin Takes To Twitter To Mock Washington Post Reporter Who Fell For Parody Story
"Former Republican Vice Presidential candidate Sarah Palin has joined Harvard University as a visiting scholar," reads the Currant's "report."
"According to an official press release, the conservative pundit and reality television star will teach four courses over three years at Harvard's prestigious Kennedy School of Government in Cambridge, Mass., beginning in fall 2013," the report continued convincingly.
This story has already tricked TIME Magazine writer/editor Bobby Ghosh, who sent out the link via his Twitter account noting "No, this NOT from The Onion."
It sure isn't Mr. Ghosh – it's Daily Currant! Ghosh has since deleted the tweet, but one of his 5,000+ followers immortalized it in a retweet: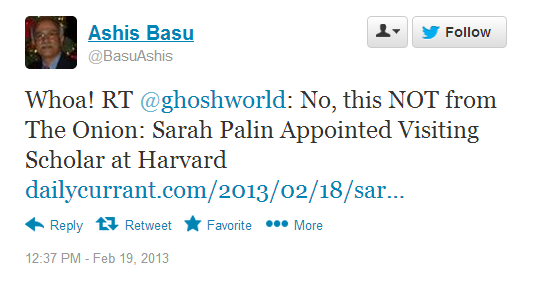 The parody newspaper recently tricked a Washington Post reporter into writing a full profile on Palin's move to the soon-to-be-launched Al Jazeera America. The reporter was hooked by the premise that Palin was excited to reach an audience of "devoutly religious" viewers.
> >Follow Noah Rothman (@NoahCRothman) on Twitter
Have a tip we should know? tips@mediaite.com