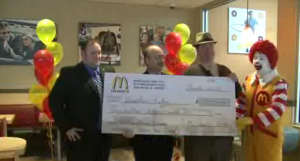 Well, the McDonalds McRib has finally done something worthy of its bizarre, cultish adoration; it made a man a millionaire. Yep, thanks to a craving for the beloved sandwich that's, for some reason, treated like McDonalds' version of the Disney Vault, an unemployed man walked away with all the prize money for this year's Monopoly contest.
Wisconsin's Jonathan Kehoe, who demeanor and dress in the video below makes me imagine if Doug Benson played Ed Norton on The Honeymooners (I'm allowed to joke him a little, he's rich now), was taking care of his godson when he decided to get the mythical meal. The rest, as they say, is history.
From Wisconsin's WITI-TV:
""I don't think it hit me right away. I didn't realize right away that I won. It was like I had to, um, ask a few people, 'is this real?' And after a couple of hours, it set in,' Kehoe said.
Kehoe says he has some bills to pay off and he owes his parents some money. He wants to then see if he can buy some property. But Kehoe says he wants the money to last.

Kehoe is a lifetime West Allis resident. He's worked in several different jobs including some construction. But he's been unemployed for the last 18 months.

'This is really a blessing, ya know. Right at the end of my unemployment, I pulled the million dollar tag off a cup. I mean, it couldn't be better.'"
This is wonderful news for Kehoe. It's also great news for the rest of us. Now that the contest's over, we can all stop wasting our money on McDonalds value meals. I need to save all my cash to look for that Playboy Golden Ticket!
Watch the video report from WITI below:

Have a tip we should know? tips@mediaite.com