Is This Christian University Mandating Fitbits to Enforce Their Ban on Student Sex?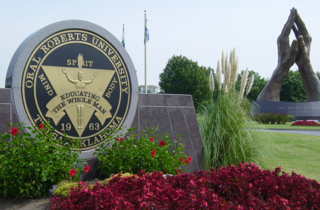 Last month, local papers in Oklahoma broke the news that a university in the state had been requiring all freshmen to wear Fitbit HR fitnesstracking wristbands as part of a health initiative. When I went to college, all the incoming freshmen got laptops with a tacky school-branded plaque screwed into the cover, but the times, they are a-changin', I guess. Well, actually, the times aren't totally changing because while the university is being pretty tech-savvy with the Fitbits, they're also not letting go of their student code of conduct, which has some very old-school rules written into it. Some people, in fact, are nervous that the Fitbits are a way for the school to secretly monitor if students are sexing it up in violation of the school rules.
Oral Roberts University* has each incoming student sign an "honor code" that outlaws pre-marital sex, among other activities they perceive as immoral. The institution has fought back on the claims that they will be tracking ' forays into Mortal Sin City with the calorie-counting bracelets. Mike Mathews, the chief information officer at the school and developer of the program, insisted that ORU is just interested in advancing its "whole person education" program and won't be able to differentiate between the old in and out versus a plain old run outside.
Motherboard reported that the data from the bangles will simply be uploaded to a school computer and shared with whichever single professor is responsible for assigning a particular student their health grade. They also reported that no parents or students have raised any concerns yet.
That may be true, but other people are raising concerns on their behalf. Facebook user Bernard F. Dreyer shared his issues with the new program on January 10, per EAG News.
His worries about the GPS locators intrinsic to the Fitbit HR are especially valid. The Honor Code forbids drinking alcohol and mandates church attendance. A bar appearing on a list of a student's frequented locations or a church not appearing on that list could mean big trouble for the students of ORU, many of whom are there on sports scholarships, not necessarily because they are as ardently religious as the administrators and reputation of the university. If the school isn't being totally forthcoming about what will happen to the students' data, expulsions will be soon to come.
Honor codes are known for getting kids in big trouble that is often seen as disproportionate. Further, they outlaw behaviors that are frequently considered to be completely normal in the secular world, thus damaging anyone who is naturally inclined to participate in one or more of the prohibited activities. (Oral Roberts's grandson, for instance, turned out to be gay, which is against pledge #5 on the code.) Perhaps the most insulting part of this whole debacle, however, is that the students are expected to pay for the sex detectors Fitbit HRs themselves.
*Tell me "Oral Roberts" isn't the funniest name for a school that outlaws frisky time. Tell me. I dare you. You can't.
[image via screengrab]
For more from Lindsey, follow her on Twitter.
This is an opinion piece. The views expressed in this article are those of just the author.