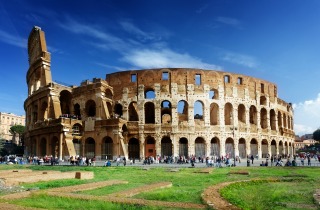 In its most recent video showing the beheadings of 21 Egyptian Coptic Christians in Libya, ISIS made a vague threat to Italy's capital: "We will conquer Rome with Allah's permission." Whether ISIS actually meant Rome or was just referring to the west in general, Italians are worried that, given the mass migration from northern Africa to Italy's southern shores, ISIS could use that as a route to supposedly conquer Rome.
Some background information: On a daily basis, southern Italy receives hundreds of migrants from northern Africa and the Middle East. Many of these migrants, however, are victims of human trafficking and are forced onto boats way beyond capacity. The boats often capsize before arriving in Italy, and the Italian Coast Guard has been forced to launch numerous rescue operations. Sadly, many do not come out of these shipwrecks alive. The Italian government had set up a military operation ("Operazione Mare Nostrum") in the name of saving these migrants at sea, but due to fiscal concerns the program is now spearheaded by the European Union. Migration to Italy from Libya, in particular, has drastically increased ever since ISIS released the aforementioned video, which was done on a Libyan beach.
Okay, back to the issue at hand. As The Washington Post notes, ISIS created the following hashtag for their aspirations: #We_Are_Coming_O_Rome. But Italians — oh, Italians — have brilliantly turned the tables on that hashtag, offering hilarious responses to ISIS's so-called threat to conquer Rome. It's been used so much in a joking matter that a simple search for the hashtag does not yield any actual ISIS tweets anymore.
A sampling below:
#We_Are_Coming_O_Rome you are a couple of thousand years too late… #chocisis

— Grant (@graarchen) February 19, 2015
#We_Are_Coming_O_Rome We are ready to meet you! We have nice Colosseum plot for sale, Accept Credit Cards Securely, bargain price.

— Alessio Floris (@Alessio_Floris) February 20, 2015
Tomorrow is strike of public transport. Good luck. #We_Are_Coming_O_Rome

— Alessandro Cocco (@AleCocco84) February 19, 2015
#We_Are_Coming_O_Rome are you sure? pic.twitter.com/yNPVEO8Gzc

— Mauro Giulivi (@Giulivello) February 20, 2015
#We_Are_Coming_O_Rome if you manage make sure to come between 1 and 5 AM otherwise no way you getting trough! pic.twitter.com/KktacE0LvP

— smarteyes (@cecike) February 20, 2015
we are waiting you with prosciutto

— Logan's Ltd (@logansltd) February 19, 2015
#We_Are_Coming_O_Rome You're too late , Italy is already been destroyed by their governments….

— Franco (@campafranco) February 20, 2015
Isis: "#We_Are_Coming_O_Rome". Really? Will you come with a Fiat Panda?

— Andrea Baiocco (@Andrea_Baiocco) February 20, 2015
#We_Are_Coming_O_Rome hey just a tip: don't come in train, it's every time late!

— Giuseppe Di Chiara (@Giu_DiChiara) February 19, 2015
Please stay at home. We need to solve so many issues in this city, don't add you to this long list… #We_Are_Coming_O_Rome

— Graziella Giancaspro (@gragia86) February 19, 2015
Poveri illusi arrivate qui e scatenate la terza guerra mondiale. #We_Are_Coming_O_Rome #ISIS

— CocciIlCogliometro (@coccinelo) February 19, 2015
Translation: "Poor fools, arrive here and trigger World War III."
[h/t WaPo]
[Image via Shutterstock]
— —
>>Follow Andrew Desiderio (@forza_desiderio) on Twitter
Have a tip we should know? tips@mediaite.com