BBC Defends Refusal To List Jerusalem As Israeli Capital In Olympic Coverage; Athletes, Government Angrily Respond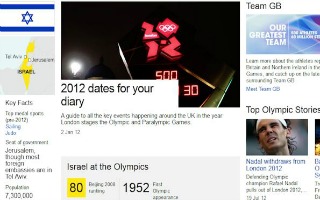 The British Broadcasting Corporation is coming under fire on Monday from Israel's Prime Minister and Olympic athletes after the organization refused to list Jerusalem as the nation's capital but noted that East Jerusalem is the capital of the Palestinian territories. The BBC corrected their original entry, but still do not list Israel's "capital" as Jerusalem. In a statement provided to Mediaite, the BBC has issued a defense of their updated Olympic facts page for Israel and affirmed their position as an unbiased news organization.

In mid July, several Israeli media outlets noted that the BBC had refused to list Jerusalem as the capital of Israel in their coverage of the Olympics. Jerusalem, where the nation's Knesset operates, was not listed as the nation's capital.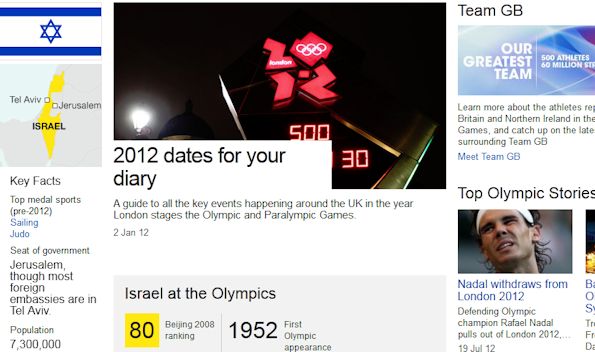 Since 1950, Israel's formal capital has been the city of Jerusalem. Other news organizations covering the Olympics, such as NBC, have unequivocally listed Jerusalem as the nation's capital.
Until several days ago, BBC listed the capital of Palestine as East Jerusalem despite the fact that Palestine is not a formally recognized nation.
Israeli Prime Minister Benjamin Netanyahu's spokesman issued a stern statement expressing his government's dissatisfaction with the BBC and saying that he was "dismayed" by the broadcaster's decision not to list Jerusalem as the nation's capital.
"Every country [and noncountry] participating in the London 2012 games has been given a page on your website with background information about the country, including mention of the capital city. Every country [and non-country], except Israel," wrote Netanyahu's spokesman Mark Regev. "Jerusalem is the capital of the State of Israel, and accordingly we respectfully request the immediate rectification of this matter."
Israel's Olympic athletes have also slammed the BBC for hedging on the issue of Israel's true capital city. The team produced a video last week in which they made it clear that Israel's capital was the city of Jerusalem.
Both the Palestinian and Israeli entries on the BBC's website now have been amended. Palestine's entry lists Ramallah as the "administrative capital." Jerusalem is now listed as Israel's "seat of government" with the caveat that most foreign nations locate their embassies in the city of Tel Aviv.
Regev said that the change was not satisfactory and again requested that "Israel's capital be identified accurately on [The BBC's] website."
According to the American Center for Law and Justice, the BBC has a history of sensitivity towards the dispute over Jerusalem's official status. In 2007, after referring to the city as Israel's capital, BBC offered a retraction and apology to Palestine for their "factual mistake."
A BBC spokesperson told Mediaite that the BBC maintains its impartiality and the correction that the BBC made to both Israel's and Palestine's pages is sufficient:
"The Olympics page on the BBC Sport website provides extensive information on the London 2012 games, including the profiles of all the teams taking part.

Due to an error which was made at the time the information was added onto the website, incorrect details and mistakes appeared on the Israeli and Palestinian team pages. This has since been rectified in line with BBC policy.

The BBC as an impartial broadcaster remains committed to accuracy and we regret if anyone was offended by this"
Watch Isreal's athletes slamming the BBC below:
h/t American Center for Law and Justice
> >Follow Noah Rothman (@Noah_C_Rothman) on Twitter
Have a tip we should know? [email protected]