Israeli Military Attacks Gaza-Bound Flotilla, PM Netanyahu Cancels US Visit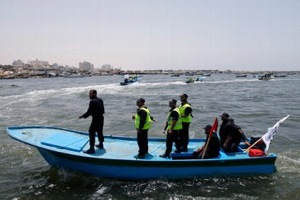 A flotilla carrying pro-Palestinian activists and relief supplies to Gaza was attacked in the early morning by Israeli commandos, who are reporting at least ten deaths and many others wounded. In light of the event, Israeli Prime Minister Benjamin Netanyahu has canceled a trip to the White House to return to Israel from Canada and handle the response to the attack.
Israeli and Palestinian authorities disagree on what triggered the attack, with Israeli officials calling the attack methods "riot dispersal means" and Palestinian activists denying the need for them. From the New York Times:
The Israeli Defense Forces said more than 10 people were killed when naval personnel boarding the six ships in the aid convoy met with "live fire and light weaponry including knives and clubs." The naval forces then "employed riot dispersal means, including live fire," the military said in a statement.

Greta Berlin, a leader of the pro-Palestinian Free Gaza Movement, speaking by telephone from Cyprus, rejected the military's version.

"That is a lie," she said, adding that it was inconceivable that the civilian passengers on board would have been "waiting up to fire on the Israeli military, with all its might." "We never thought there would be any violence," she said.
The White House has responded to the attack, stating that it "deeply regrets the loss of life and injuries sustained," but has not made a qualitative comment on what happened, as they are still learning about the incident:
"[White House spokesman Bill] Burton said U.S. officials are 'currently working to understand the circumstances surrounding this tragedy.' The United States, among others, has been trying to restart direct peace talks between the Israelis and Palestinians, but progress toward this achievement has lagged severely in recent months. At least 10 people were killed and dozens wounded in the incident Monday."
Prime Minister Benjamin Netanyahu is planning a swift return to Israel from Canada, where he is curerntly visiting, and canceling White House talks scheduled for tomorrow. He has expressed that he gives the Israeli military his "full backing."
Here is some raw footage of the flotilla from last night (Zoofs via Reddit), and below the initial report from Fox News:
Photo ABC News
Have a tip we should know? tips@mediaite.com