'It Was an Assault': Two Women Speak Out About Trump Touching Them Inappropriately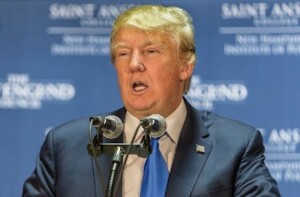 Two women have spoken out to The New York Times about being touched inappropriately by Donald Trump.
Jessica Leeds and Rachel Crooks both have made some major allegations about previous encounters with the GOP presidential nominee.
Leeds said her encounter with Trump took place the first time they met, on a plane:
About 45 minutes after takeoff, she recalled, Mr. Trump lifted the armrest and began to touch her.

According to Ms. Leeds, Mr. Trump grabbed her breasts and tried to put his hand up her skirt.

Continue reading the main story
"He was like an octopus," she said. "His hands were everywhere."

She fled to the back of the plane. "It was an assault," she said.
Meanwhile, Crooks said she was 22 at the time she encountered the real estate tycoon in Trump Tower:
They shook hands, but Mr. Trump would not let go, she said. Instead, he began kissing her cheeks. Then, she said, he "kissed me directly on the mouth."

It didn't feel like an accident, she said. It felt like a violation.

"It was so inappropriate," Ms. Crooks recalled in an interview. "I was so upset that he thought I was so insignificant that he could do that."
This report comes on the heels of another report from teenage beauty queens claiming Trump walked in on them when they were naked.
Trump, who has now made a big campaign issue of the sexual assault and rape allegations against Bill Clinton and his wife's complicity in them, had about the reaction you would expect:
"None of this ever took place," said Mr. Trump, who began shouting at The Times reporter who was questioning him. He said that The Times was making up the allegations to hurt him and that he would sue the news organization if it reported them.

"You are a disgusting human being," he told the reporter as she questioned him about the women's claims.

Asked whether he had ever done any of the kissing or groping that he had described on the recording, Mr. Trump was once again insistent: "I don't do it. I don't do it. It was locker room talk."
UPDATE –– 7:29 pm ET: The Trump campaign has issued this response:
"This entire article is fiction, and for the New York Times to launch a completely false, coordinated character assassination against Mr. Trump on a topic like this is dangerous. To reach back decades in an attempt to smear Mr. Trump trivializes sexual assault, and it sets a new low for where the media is willing to go in its efforts to determine this election.
"It is absurd to think that one of the most recognizable business leaders on the planet with a strong record of empowering women in his companies would do the things alleged in this story, and for this to only become public decades later in the final month of a campaign for president should say it all.
"Further, the Times story buries the pro-Clinton financial and social media activity on behalf of Hillary Clinton's candidacy, reinforcing that this truly is nothing more than a political attack. This is a sad day for the Times."
UPDATE —— 10:30 pm ET: The Clinton campaign issued the following statement in response to this and other stories that were published Wednesday night about Trump's alleged misconduct:
"This disturbing story sadly fits everything we know about the way Donald Trump has treated women. These reports suggest that he lied on the debate stage and that the disgusting behavior he bragged about in the tape are more than just words."
The Trump campaign is reportedly considering legal action against the Times.
[image via Shutterstock]
— —
Follow Josh Feldman on Twitter: @feldmaniac
Have a tip we should know? tips@mediaite.com
Josh Feldman - Senior Editor