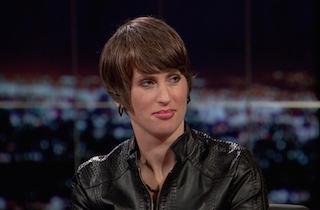 It's open season on Scott Walker's new digital communications consultant Liz Mair.
Mair, a former RNC online communications director, joined Walker's growing campaign team yesterday to focus on "social media and blogger outreach," per CNN's Chris Moody. But within 24 hours both Democrats and conservatives had launched attacks on everything from her position on ethanol to her tweets about Iowans to her statements on immigration reform.
Des Moines Register reporter Jennifer Jacobs collected some of Mair's tweets from earlier this year, which criticized Iowa's position as the first primary state and its role as a conservative filter thanks to Rep. Steve King's (R-IA) Iowa Freedom Summit. The latter is especially awkward, as Walker's appearance at the Summit played a large role in launching him into the upper echelon on the 2016 GOP field.
Jacobs cited Democrats pushing other Mair tweets in which she criticized Iowa's dependency on ethanol subsidies, a major issue in the pivotal primary state:
Morons across America are astounded to learn that people from *IOWA* grow up rather government-dependent. #agsubsidies #ethanol #brainless

— Liz Mair (@LizMair) January 22, 2015
Meanwhile, Breitbart blogger Matthew Boyle called Mair's hire a "massive misstep" based on her stated support for immigration reform, which in Breitbart's world equates to "amnesty":
During the Senate Gang of Eight bill fight, Mair very publicly and very aggressively promoted the amnesty bill—pushing it to media and making the case for the need for it over and over again. She claims her advocacy was done out of the good of her heart, for free, because for religious reasons she believes in amnesty and open borders. But Mair wouldn't answer who was paying her bills for her advocacy during the timeframe of the "Gang of Eight" bill in early 2013 through the end of the last Congress–when asked by Breitbart News if any specific tech companies or a select group of Wall Street billionaires were paying her.

…That could mean anyone—even foreign companies potentially—were paying her during the timeframe she was publicly advocating for the amnesty bill. While she didn't have to disclose it to the public at the time now that she's hitched to Walker the Wisconsin governor owns everything she said and did.
Mair told Breitbart she stood by her position, but maintained her views had no impact on Walker's position(s) as a candidate. Walker recently told Fox News Sunday's Chris Wallace he'd changed his position on immigration reform and opposed what he now called amnesty.
For all that, Red State contributor Ben Howe pointed out that Mair has previously sported a Breitbart byline:
I can't believe @BreitbartNews allowed this pro-amnesty ESTABLISHMENT CRONY write for them!! Right @mboyle1? http://t.co/ZEbVTkLIh4

— Ben Howe (@BenHowe) March 17, 2015
Mair declined Mediaite's request for comment, but is hardly unaware of the pushback she's received:
It's been a rough 24 hours, I'll admit, and some of what I've seen in the media is getting to me.

— Liz Mair (@LizMair) March 16, 2015
[Image via HBO]
——
>> Follow Evan McMurry (@evanmcmurry) on Twitter
Have a tip we should know? tips@mediaite.com