James O'Keefe Snuck Across the U.S.-Mexico Border Wearing an Osama bin Laden Mask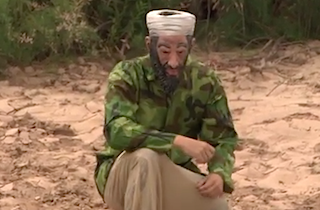 Conservative activist and filmmaker James O'Keefe, best known for posing as a pimp to discredit the now-defunct social welfare organization ACORN, is back. But this time, he's wearing an Osama bin Laden costume.
In an effort to prove that the United States' border with Mexico is not properly secure, O'Keefe decided to don a rubber bin Laden mask and try to cross the border from Mexico, across the Rio Grande, into American territory.
As O'Keefe and his crew show in their video, the border between the U.S. and Mexico in sort parts of west Texas is nothing but a "muddy, sliver of river." First, O'Keefe wades across the small river as himself. Then, he does it as Osama bin Laden. "Do you feel safe?" the video asks in dramatic fashion.
"If the president or if Senator Reid or anyone else tries to tell you that our borders are secure, they are lying to you," O'Keefe says after making his 10 second journey. "Because that was just about the easiest thing I ever did."
O'Keefe does admit that crossing the shallow river may not be as difficult as getting from some of Mexico and Central America's most dangerous cities to the border, but the point he is trying to make appears to be that it is possible to enter U.S. territory without being immediately captured by border patrol.
Later, he shows video of himself arriving at the side of the I-10 freeway, six-miles from where he crossed the river, but leaves out what lies in between those two points. Or, as Gawker's Adam Weinstein puts it:
Weirdly, in his "six mile" trip from the river border to I-10, O'Keefe's video never shows him crossing the well-patrolled road that runs parallel to the river, the multiple irrigation canals, the well-maintained parcels of farmland, the two-lane Highway 192 (also called "Esperanza Road,") or any of the other obstacles that stand between the border and I-10 in every place there isn't already a permanent outpost.
Watch video below, via Project Veritas:
[h/t TPM]
[Photo via screengrab]
— —
>> Follow Matt Wilstein (@TheMattWilstein) on Twitter
Have a tip we should know? tips@mediaite.com