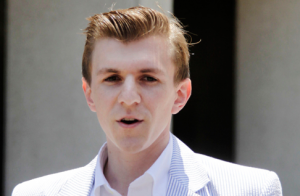 Conservative activist James O'Keefe, who's become known for his undercover sting videos, has agreed to pay $100,000, settling a lawsuit with Juan Carlos Vera, former employee of the group ACORN, who was featured in one of his 2009 videos. Wonkette reported the news on Thursday, also posting the settlement agreement.
The widely circulated video — in which O'Keefe and Hannah Giles taped an interview with Vera in his office — the suit says, broke California law, which doesn't allow filming someone without their permission. O'Keefe's attorney, Michael Madigan, deemed the payment a "nuisance settlement."
Some background on the lawsuit, per the LA Times:
The video, aired repeatedly on television, appears to show that Vera was willing to help O'Keefe smuggle underage girls into the U.S. to act as prostitutes. O'Keefe and his associate, Hannah Giles, had gone to the ACORN office without an invitation.

In the settlement, O'Keefe says that before the video was shown on TV or posted on the Web, he was unaware of Vera's assertion that he had called the police to report O'Keefe and Giles for proposing an illegal act.
In the settlement, O'Keefe said he "regrets any pain suffered by Mr. Vera or his family."
The document below:
Vera O'Keefe ACORN $100,000 Settlement Agreement


UPDATE: O'Keefe responded to the settlement in a statement, saying, "Sadly, this is the cost of exposing the truth." It reads, in part:
"There comes a time when the cost to defend yourself against meritless accusations becomes so burdensome financially and personally, it is simply too great. The settlement admits no liability and there is no benefit from extending this ridiculous lawsuit.

"Sadly, this is the cost of exposing the truth. That's why so few people do it. There are liability issues inherent in undercover journalism. But let me be clear, this lawsuit had nothing to do with editing or misrepresentation. It was an action under the California Invasion of Privacy Act. The anti-recording statute under which the suit was brought is unconstitutional, overbroad, and gives the police and other public officials too much power."
Have a tip we should know? tips@mediaite.com