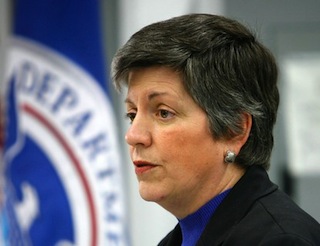 The Drudge Report is one of the most influential news aggregators around. However, Matt Drudge's headlines, shortened to achieve maximum lean to the Right, do tend to ruffle some feathers. One such ruffle-victim appears to be Janet Napolitano who spoke out to Politico about the way the site depicts her, calling Drudge "just wrong" about her privacy policies.
On the site, Napolitano has been given the nickname "Big Sis" and features prominently in less than flattering headlines like "Big Sis defends 6-year old's pat-down" and "Big Sis' Latest Terrorists: More White Americans…" While she's previously gone on record as being "amused" by the nomenclature, in a conversation with Politico, she explained why it doesn't apply.
From Politico:
"'I think my nickname is 'Big Sis.' I don't think he means it kindly, actually,' Napolitano said Tuesday, accurately recalling the moniker that often accompanies scary-looking photos of her on Drudge's popular news site.

'I think that what he means is we are watching too much—kind of an Orwellian view. He's just wrong. I mean, he's just wrong,' Napolitano declared during a POLITICO Playbook breakfast at the Newseum. She said the privacy impact of new airport screening technology and similar programs are thoroughly vetted before they are implemented.

'We want to be conscious of civil liberties and civil rights protections—and we are,' Napolitano insisted."
So Napolitano told a huge political website that she doesn't like Drudge's nickname and pictures. That's a fun news story. I wonder how Drudge will aggregate it. Lets take a look at the front page: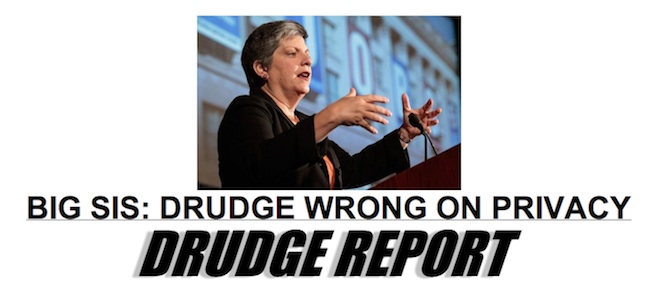 Yep. We could have seen that coming.
Read the rest of the Politico interview here.
Have a tip we should know? tips@mediaite.com