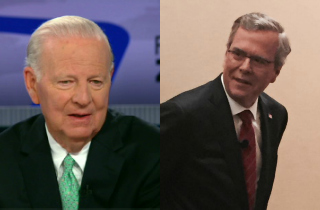 Former Secretary of State and current Jeb Bush foreign policy advisor James Baker had some harsh words for newly-reelected Israeli Prime Minister Benjamin Netanyahu Monday night, forcing the potential 2016 Republican candidate to quickly reaffirm his support for Bibi.
Baker bemoaned Bibi's "diplomatic missteps and political gamesmanship" at a dinner for the liberal J Street lobbyist group (basically the anti-AIPAC). Baker went on to criticize Netanyahu's rhetoric in the closing days of the election, in which the Prime Minister flip-flopped-flipped on the two-state solution and appeared to demagogue the country's Arab population.
"Frankly, I have been disappointed with the lack of progress regarding a lasting peace — and I have been for some time," Baker said. "In the aftermath of Netanyahu's recent election victory, the chance of a two-state solution seems even slimmer, given his reversal on the issue."
Baker said he favored President Barack Obama's attempt to negotiate a nuclear deal with Iran, something Netanyahu harshly opposes, but added that any deal should be put before Congress. He also rebutted claims that Obama has tempered U.S. support of its Mideast ally.
Baker is part of a major foreign policy team assembled by Bush, one critics say disqualifying comprises former members of his brother's and father's administrations. Bush's press team quickly distanced itself from the comments.
"Governor Bush's support for Israel and its Prime Minister is clear, a spokesperson for Bush said, though Baker's comments specifically were not addressed. "Governor Bush finds J Street's advocacy to be inconsistent with his views and to the interests of a safe and secure Israel."
[h/t Politico / Washington Post]
[Image via screengrab]
——
>> Follow Evan McMurry (@evanmcmurry) on Twitter
Have a tip we should know? tips@mediaite.com